Math center counts on improving instruction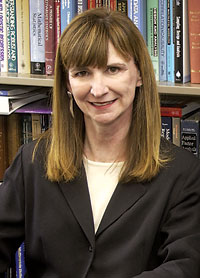 Photo by Kathy F. Atkinson
RESEARCH | The Institute of Education Sciences, a research branch of the U.S. Department of Education, has awarded a $10 million grant to fund a five-year research and development center administered at UD and aimed at understanding difficulties students have in math.
The grant was awarded to Nancy C. Jordan, professor of education at UD; Robert Siegler, professor of cognitive psychology at Carnegie Mellon University; and Lynn Fuchs, professor of special education at Vanderbilt University.
The Center on Improving Mathematics Instruction for Students with Mathematics Difficulties will focus on improving math instruction for elementary and middle school children who have problems with math concepts, specifically fractions.
"Understanding of fractions is very important for learning algebra, which is considered a gateway skill for success in the science, technology, engineering and mathematics disciplines," Jordan says.
She has been conducting research on the general subject area of math learning difficulties for more than 12 years and has received three National Institute of Child Health and Human Development grants to study characteristics and predictors of math difficulties for children in kindergarten through third grade. She says she's now curious to find out how students learn fractions concepts, where they have problems and, ultimately, how to help them.
"It's really exciting but also a huge responsibility," she says. "The center is going to involve top researchers coming together to work on solving an important problem in education."
The center will use a multi-disciplinary approach involving cognitive psychologists, special educators, math educators and educational psychologists. Jordan and her colleagues will collaborate with local school districts near their universities to conduct translational research and collect data.