Panel of experts to study corporate governance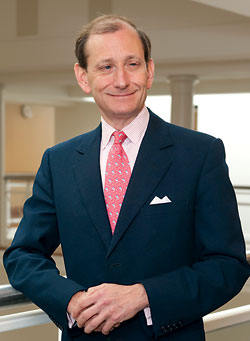 Photo by Evan Krape
RESEARCH | The John L. Weinberg Center for Corporate Governance and its director, Charles Elson, have been awarded a grant from the Rockefeller Foundation to establish a nonpartisan expert group to study the roles of boards of directors in corporate governance.
The panel proposes to address the role of boards of directors as representatives of shareholders' interests by providing an outside analysis. It is expected to generate a report containing findings and recommendations on board practices.
The grant was co-awarded to UD and the Columbia University Graduate School of Business, whose efforts were led by Glenn Hubbard, dean and Russell L. Carson Professor of Finance and Economics and former chairman of the White House Council of Economic Advisers. The group, co-chaired by Elson and Hubbard, was put together with Frank Zarb, former chairman and CEO of Smith Barney and NASDAQ, who served as "energy czar" in the Ford administration.
The panel of leaders includes Paul O'Neill, senior adviser and consultant to The Blackstone Group and former secretary of the U.S. Treasury; William T. Allen, director of New York University's Pollack Center for Law and Business and former chancellor of the Delaware Court of Chancery; Damon Silvers, associate general counsel and head of corporate governance for the AFL-CIO; David Becker, Securities and Exchange Commission (SEC) general counsel; and former SEC chairman Arthur Levitt. Also participating in the group and managing the grant processes is Roger Coffin, associate director of the Weinberg Center.
Established in 2000 in the Lerner College of Business and Economics, the Weinberg Center's mission is to study and advance progressive changes in corporate structure and management through education and interaction.