A healthy dose of community outreach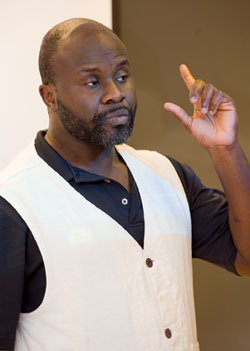 Photo by Evan Krape
RESEARCH | In his lab, microbiologist Carlton Cooper keeps his eyes on the prize of all cancer researchers—that their work will contribute, if only in a small way, to finding a cure someday for the deadly disease.
In the classroom and in the community, however, Cooper is working to have a more direct and more immediate impact on improving health. An assistant professor of biological sciences at UD who also conducts research on prostate cancer through the University's Center for Translational Cancer Research, he focuses his public outreach activities on prevention.
"There are many ways to fight disease. Research is important, but so is educating the community," he says. "If there's a cure for cancer, it's probably a long way off. I can't just work with cells in my lab, hoping for the future. I want to do that, but I also want to do something now."
Since 2004, Cooper has been spending much of the time when he isn't in the lab or the classroom speaking to a wide assortment of groups and organizations. As an African American, he says he concentrates on addressing the racial, ethnic and gender disparities that exist in health care, including differing incidences and death rates from some diseases and a lack of representation in clinical trials.
In speeches to both community and professional groups, he says, his emphasis is on straight talk, informal language and personal responsibility.
"From my very first lecture to an African-American church group, I decided not to be politically correct and not to sugar-coat the message," he says. "We can be so worried about hurting people's feelings that we don't get the information out."
With that in mind, Cooper tells audiences of overweight women that they are so worried about taking care of their children that they fail to eat right and exercise and therefore risk an early death or disability that will seriously harm their family. He tells groups of African-American men that their reluctance to discuss homosexuality has led to higher rates of HIV/AIDS in their own communities.
He tells churchgoers that, just as they shouldn't come to him for spiritual guidance, they shouldn't rely on their pastors for medical advice. And he tells physicians that they must lead healthy lifestyles themselves or their patients won't follow their directions to exercise or lose weight.
"I don't say these things to make people feel bad," he says. "But I can't stand for people to suffer, especially when it doesn't have to happen."
In addition to speaking to numerous church and social groups, Cooper has lectured recently at the American Association for Cancer Research, Lincoln University and the Meharry Medical College School of Graduate Studies and Research. He works with HIV researchers at Johns Hopkins, recruiting African-American men for their clinical studies, and is the health disparity coordinator for the Center for Translational Cancer Research and for the Beautiful Gate Outreach Community, which addresses the disparity of HIV/AIDS in African Americans through timely testing, counseling and education.
Cooper clearly has what he calls "the community bug," and he wants to inspire that same devotion to public outreach in his students.
"I tell my students: Study and do research, but get involved, too," he says. "Learning all this won't do any good if you keep it to yourself."
Article by Ann Manser, AS '73