Lynching memorials tell stories often forgotten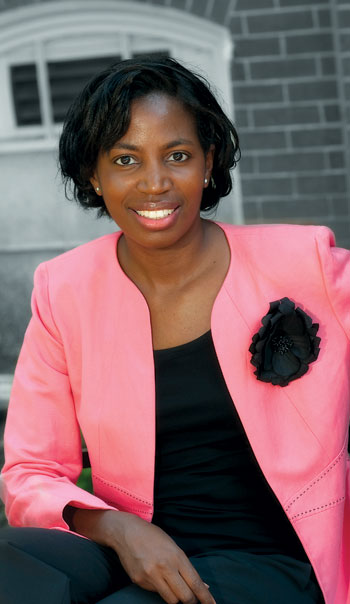 Photo by Kathy F. Atkinson
RESEARCH | La Tanya Autry says most people are surprised to learn that, as an art historian, she is studying the history of lynching in the United States. They are perhaps even more surprised to learn where her research has taken her—not to the Deep South, but to Minnesota.
"I'm an art historian, but I have a social history focus," says Autry, who is pursuing a doctorate at UD after earning her master's degree at the University in 2009. "I'm looking at the kinds of memorials that have been created to commemorate incidents of lynching, but what I'm most interested in is the story behind those memorials."
Many people are either unfamiliar with the history of lynching or are uncomfortable with the subject, says Autry, who notes that even her friends sometimes ask her if she finds the subject matter depressing. What she tells them is that the incidents of mob violence that targeted African Americans, primarily from the 1880s through the 1930s, were horrific, but the memorials created to remember the victims tell an important story as well.
"These memorials can be small or large, but if they're respectful of the history, then they can be a starting point for public education and discussion," she says.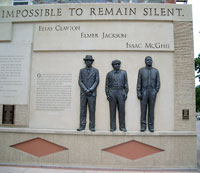 Photo courtesy of LaTanya Autry
While many memorials are small roadside or graveside markers, Autry has visited one of the largest ones, built in 2003 in Duluth, Minn. It commemorates the night of June 15, 1920, when a mob of thousands attacked, beat and hanged three young black men falsely accused of raping a white woman. Decades later, a group of citizens in Duluth formed an organization to create the memorial, which consists of bronze markers for each of the victims and a wall inscribed with quotations about nonviolence.
"At a time in America when the lynching of black men was all too common, it was widely agreed to be the most heinous lynching of 1920," according to the Duluth memorial's website. "Until recently, this event has been largely forgotten. The names of the three men—Elias Clayton, Elmer Jackson and Issac McGhie—were almost forgotten as well."
Lynchings such as the one in Duluth were often committed in a festival-like atmosphere and were commonly photographed and the images made into postcards. In her work for her master's degree, Autry studied such postcards and now is expanding her research to encompass the memorials.
In addition to her doctoral coursework and research, Autry is focusing on outreach. Last year, she took part in UD's Public Engagement in Material Culture Institute, a two-week workshop in which graduate students received special training and mentoring in ways to engage the public in their research and share their findings with a wider audience beyond academia.
Article by Ann Manser, AS '73