Former student now teaching others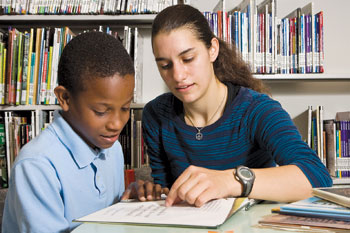 Photo by Ambre Alexander
ON THE GREEN | When Lily Grosso came to The College School at the University in fourth grade, she struggled with reading comprehension and fluency. She lost interest when she was having trouble understanding the words and didn't find reading enjoyable. But, with the help of a UD tutor and the staff at the school, in two years there she was able to overcome those learning difficulties.
Grosso, now a UD student herself, decided during the second semester of her freshman year that it was time to go back and help current students at The College School (TCS) succeed academically, just as her former tutor had helped her more than six years earlier.
"I was ecstatic when I walked into the school every Monday," Grosso says. "I was so excited to get the opportunity to help there during spring semester."
An elementary teacher education major, Grosso was enrolled in an exceptional children education course, which gave her the option of tutoring for extra credit. She says she could barely hide her excitement when she was paired with TCS.
TCS, a school within the College of Education and Human Development, has invited UD students to serve as tutors for more than 10 years. Staff members say they've seen their students experience significant academic growth from the one-on-one weekly interactions they have with their tutors.
The school, located on the University campus, serves children in grades one through eight who have learning, attention, social and behavioral issues. With small classes and highly individualized and structured programs of instruction, most students are able to return to a mainstream academic setting after two to three years.
Each class at TCS is limited to 10-14 students and is led by a certified teacher with the support of one or two classroom assistants. University graduate assistants, faculty and staff also provide their expertise to the school, and each TCS student receives daily mentoring by a graduate or undergraduate student.
"Lily's success is a tremendous source of pride for all of us at TCS," says Marty McDonough, administrative assistant for the school. "Amazing learning takes place every day here. Our children transition as successful, confident students, and it is phenomenal when they come back to visit and we discover the infinite ways and places they are involved beyond their experiences at TCS."
Consistently over seven sessions, Grosso worked with her TCS student on improving his reading skills. She says many of his issues were the same ones she used to have.
"I remember my tutor emphasizing that I would always improve with practice and that once I could read and comprehend stories more easily, reading books would become less of a chore and more enjoyable," she says. "It was true. I showed this student the same thing. We read a lot and by making sure I selected fun and exciting books for us to take turns reading, it really helped him develop fluency and interest in books."
Grosso says she plans to continue tutoring at TCS as a volunteer and is extremely grateful to the school and its teachers in helping her get to where she is today.
"By fifth grade, I could already see how much of a difference they were making for me in my life, and that inspired me to become a teacher," she says. "It is so cool to know I am back at The College School to achieve that. To know I have gone full circle is incredible."
Article by Cassandra Kramer