What can be learned from today's financial crisis?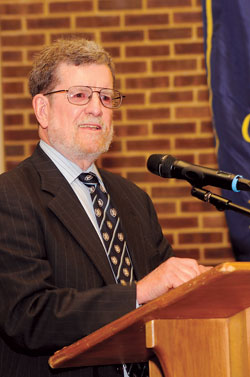 Photo by Duane Perry
ON THE GREEN | If you don't want history—specifically the current financial crisis—to repeat itself, you must study it to learn its lessons. That was the takeaway from UD's 20th annual Hutchinson Lecture in macroeconomics, delivered by William Poole, former president of the Federal Reserve Bank of St. Louis and now Distinguished Scholar in Residence at the University.
He offered his view of three lessons from the crisis.
Lesson 1: Observe the fundamental rule of risk management —maintain a substantial capital base.
"For years and years, the cardinal rule of risk management has been to match, at least to a considerable degree, the maturities of assets and liabilities," Poole said.
"We understood that maturity mismatch was a core issue in the failure of so many savings and loans in the late 1980s and early 1990s. We also understood that risky portfolios ought to have a substantial capital base. A capital ratio of 3-4 percent never made good sense, but that was the level of capital maintained by Fannie Mae, Freddie Mac, Bear Stearns, Lehman Brothers and many others."
Poole criticized federal government incentives as a contributing factor, but ultimately did not place blame there.
"The federal government did not make private firms create these bad portfolios," he said. "The senior management and directors of these firms are responsible."
As a remedy, Poole noted the importance of establishing appropriate incentives, including adjustments to current public policy options. "Getting the incentives right will not guarantee financial stability, but will work in the correct direction," he said.
Lesson 2: Contingency planning is essential to dealing effectively with a crisis.
"An actual crisis can never be foreseen accurately," Poole acknowledged. "But the planning nevertheless provides the basis for responding appropriately when the crisis actually occurs."
He cited the government response to the 9/11 terrorist attacks as an example.
"The effective Fed response to 9/11 was to a considerable degree a consequence of the planning for Y2K," he said of the potentially widespread computer problems that had been anticipated when 1999 became New Year's Day 2000. "Nobody imagined an event like 9/11 would occur, but it turned out all the Y2K planning really paid off during the crisis of 9/11."
Lesson 3: Increase our economic literacy.
Citing an exchange he observed by members of Congress, Poole alleged there is an appalling lack of economic literacy in the legislative body.
"It appears that most members do not understand how the federal bank can create money," he said, adding that there was no substantial effort to prepare members of Congress as to what might have been done in response to the financial crisis.
Referring to his earlier comments on establishing appropriate incentives and holding senior executives accountable, Poole also questioned the lessons students—those future senior executives—are learning. "When the crisis broke, I couldn't help but ask myself this question: What are universities teaching in their economic and MBA programs?"
Although Poole said he has not had the chance to answer this question, having only recently returned to research and a university setting, he did have a hypothesis:
"Economic and financial history is not one of the hot courses these days," he said. "As I recall, by the time I left the Brown University faculty in 1998, economic history was not being taught at all.
"Modern finance has made enormous contributions, and mathematical modeling is a powerful tool, but it seems to me there does need to be some study of economic history in every MBA curriculum."
Article by Kathryn Ann Marrone, AS '04, BE '06M