Old College Gallery reopens with a new look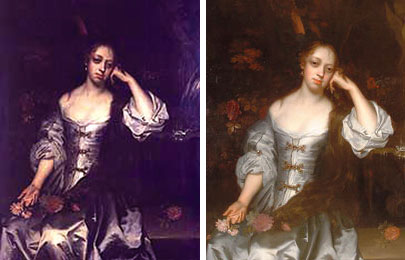 ON THE GREEN | Following a thorough and thoughtful renovation designed to best showcase the University's permanent art collection, the newly renamed Old College Gallery reopened in September.
The diverse permanent collection, given by donors over the past century, encompasses paintings from the 17th century to the present, as well as 20th-century sculptures, Russian icons and pre-Columbian ceramics. The long-term installation of those works is made possible by the centralization of all art collections under the University Museums, according to Janis Tomlinson, director of University Museums.
Tomlinson says the process began in 1978, when the University Gallery—now Old College Gallery—was established, and works and objects were brought from a variety of departments to the gallery. The process was not completed until 2007, when the permanent collection was transferred from University Archives to the University Museums.
Ever since H. Rodney Sharp first loaned "The Landing of the DeVries Colony, 1631" to hang in Old College in 1917, the University has continued to acquire art, Tomlinson says.
"Tracing these acquisitions, through the donations of generous friends, is part of the history of the University," she says. "This collection contributes to the educational mission of the University, as students from a variety of departments and programs study individual objects and visit and write about exhibitions. As we move forward, we hope that others will donate significant works to the University that support the teaching curriculum."
Preserving the permanent collection has been an important goal, and Tomlinson says University Museums "has always enjoyed a wonderful relationship with the Winterthur/University of Delaware Program in Art Conservation." Several of the works on view have been treated by students in that program, ranging from a mummy portrait to an abstract painting by Felrath Hines.
In addition, she says, last year University Museums had outside conservators work on several of the works now on view—among them a pre-Columbian jar, a late 17th-century portrait of a woman (as well as its frame) and a Victory figure after Augustus Saint Gaudens.
A second exhibition, Andy Warhol: Behind the Camera, will open in the gallery Jan. 26 and continue through June 5. The exhibition presents photographs by Andy Warhol given to the University by The Andy Warhol Legacy Program.
Guest curator Stephen Petersen will discuss the people and places portrayed by Warhol and explore the artist's fascination with cameras made for the masses. A fully illustrated catalog will accompany the exhibition.
Old College Gallery hours are Wednesdays through Sundays, noon-5 p.m., and Thursdays until 8 pm. The gallery is closed for University holidays and between semesters. Visit www.udel.edu/museums for more information.