Fast-track program for prospective teachers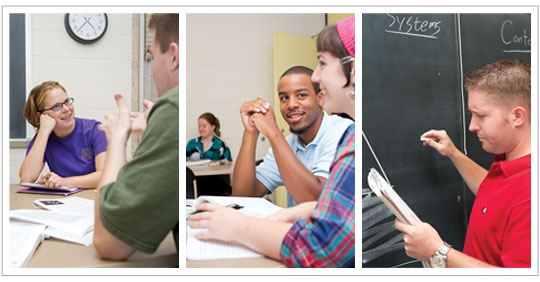 Photos by Ambre Alexander
ON THE GREEN | The University now offers a new degree option for prospective graduate students in education—the Master of Arts in Teaching (MAT) degree, a fast-tracked, cohort graduate program designed for students who want to pursue a teaching career.
"I decided to apply to the Master of Arts in Teaching program because I had heard many great things about the School of Education," says Benjamin Berg, one of the 10 graduate students in the new program. "As a college graduate with a science degree switching to teaching, this program provided exactly what I was looking for."
The MAT program is designed to accommodate students with different career backgrounds. For recent college graduates who have a general subject degree in the area of math or science, it offers a graduate degree and teacher certification in just one year. The program also is open to people who've decided to leave their current career and become a teacher.
Reed Smith has worked for AstraZeneca for 22 years as a chemist in drug discovery. Now, he says, he wants to promote an interest and passion for pursuing science as a career to students in the classroom.
"I want to be prepared to do the best job I can," he says. "I hope to bring the excitement I have for science to the high school students I work with."
Smith enrolled in the program with a colleague from AstraZeneca, Russ Mauger, who says that instead of retiring after leaving the company at age 55 this year, he's looking forward to a career change.
Brad Glass, program coordinator and assistant professor of education, describes the program as intensive and hands-on.
"It's a great opportunity for our candidates who come with a strong content background to be immersed for 12 months in education and school settings, preparing for a career in teaching," he says.
MAT is part of the state of Delaware's successful application for federal Race to the Top funds. This specialized type of teacher education is considered a residency program because after a summer of coursework, the students are placed in a school within the New Castle County Vocational Technical School District to work with a strong team of teachers. Coursework is designed in a way that is fully integrated with the resident's placement.
Race to the Top will support the program with $1.65 million over four years, helping to pay some of the development costs as well as stipends for the residents and school partners.
"This is a great example of the value of UD partnering with the state, addressing one of the state's most urgent needs and bringing strong students to the University," says Nancy Brickhouse, professor of education and deputy dean of the College of Education and Human Development.
The program is accepting applications for secondary science and math education tracks, which will begin September 2011. Next year, prospective graduate students interested in teaching English will also have the opportunity to apply for the program.
"Math and science are high-needs areas. We need more math and science teachers in the field," Glass says. "This program is giving the students the training they need to be successful teachers their first year, but also the tools that will allow them to continue to grow as educators throughout their career."
More information is available under "Master's Degrees" on the School of Education website.
Article by Cassandra Kramer