Book's author, hero share their experiences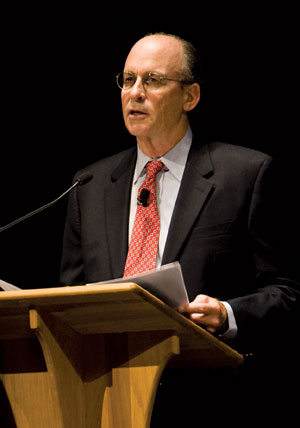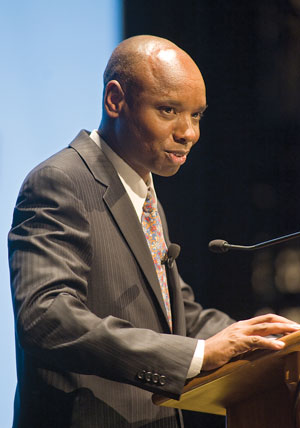 Photos by Evan Krape and Tyler Jacobson
ON THE GREEN | This year's freshmen shared the experience not only of reading a powerful book about hope and renewal but also of hearing from both the protagonist of that story and the Pulitzer Prize-winning author who told it.
In his acclaimed nonfiction work Strength in What Remains, Tracy Kidder recounts the tale of Deogratias Niyizonkiza, a Burundian refugee who survived the nightmare of civil war by escaping to the United States. Deo, as he is called in the book, eventually returns to his native land to provide basic health care in a country where hope and people often seem abandoned.
Published by Random House, Strength in What Remains is the University's 2010 First Year Common Reader, a program that affords freshmen the opportunity to share in the intellectual life of the campus community. As part of that program, Kidder visited the campus in September and related his experiences in meeting Deo and writing the book during a talk to a standing-room-only crowd of more than 650 freshmen and other members of the UD community.
Later in September, Deo himself visited UD and spoke of his odyssey that began when he boarded a plane in Bujumbura, Burundi, in 1994, leaving behind a country being ripped apart by genocide and civil war.
Speaking to another large audience in Mitchell Hall, the founder of Village Health Works in Kigutu, Burundi, said that access to clean water and safe food is crucial in a country where people often have no other place to turn for help.
"A person is only fully well when he has a strong body and a strong mind and a strong spirit," Deo, who is continuing his medical school education at Columbia University in New York City, said. "What we have done is provide much-needed health care to more than 30,000 persons."
He urged his audience to feel compassion for those in pain, saying, "This is what makes us human, and we can all do that."
In Burundi, Deo said, a major factor in health care is a user fee policy, where hospitalized people who can't pay are physically detained until payment is made. As a result, he said, people "run away from hospitals and die in the hands of those who practice witchcraft. We believe there is something that can be done."
While education, volunteerism and donations are crucial, Deo said, the world as a whole has to do more to improve the lives of people so that situations that occurred in Burundi and Rwanda are consigned to history.
"The world has been wrong by doing something small, when it really needs to be doing so much more," he said. "The fight for global social justice will be won." Before taking questions, Deo closed with a quote from President Franklin Roosevelt: "The test of our progress is not whether we add more to the abundance of those who have much. It is whether we provide enough for those who have too little."
When asked what it was like working with author Tracy Kidder, Deo said, "He knows what he is doing, and he was doing a lot. I think the process really took off when we were in Burundi. It was very different to talk to a human being who was not just a writer, but who was opening up his heart to me."
Article by Jerry Rhodes, AS '04