Professor emeritus wins Nobel Prize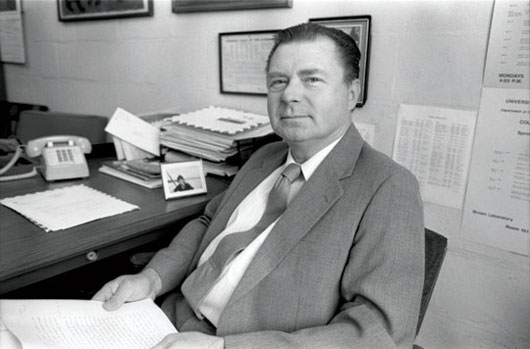 ON THE GREEN | Richard F. Heck, the Willis F. Harrington Professor Emeritus in UD's Department of Chemistry and Biochemistry, has been awarded the Nobel Prize in Chemistry.
Heck was honored alongside fellow researchers Akira Suzuki of Hokkaido University in Sapporo, Japan, and Ei-ichi Negishi of Purdue University, "for palladium-catalyzed cross couplings in organic synthesis." They will share a $1.5 million award.
The Nobel Prize in Chemistry was announced by the Royal Swedish Academy of Sciences on Oct. 6 in Stockholm. According to the announcement, the scientists were honored for discovering "more efficient ways of linking carbon atoms together to build the complex molecules that are improving our everyday lives."
Speaking from the Philippines just an hour after learning of the award, Heck said that he was surprised, although not completely surprised, as their work had been suggested for the high honor. However, he said the prize was "a very nice conclusion."
UD President Patrick Harker called Heck's research "ground-breaking" and said the University was "exceptionally proud" of the honor he received.
"This is a tremendous accomplishment for Prof. Heck and his colleagues, acknowledging the development of a tremendously sophisticated tool that will aid scientists to make potential cancer drugs and medicines," said UD Provost Tom Apple, who was a graduate student in chemistry when Heck was on the faculty. Heck retired in 1989.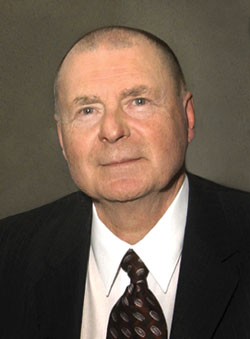 Douglass Taber, professor of chemistry and biochemistry who has known Heck as a colleague since 1982, explained the importance of his work, saying, "All of pharmaceutical chemistry and photolithography, the making of computer chips, depends on carbon bond formation. His [Heck's] contribution was to make that bond catalytic in the expensive metal, making large-scale industrial production affordable. When DNA sequencing became important, Heck chemistry made the coupling of organic dyes to the DNA bases possible."
Taber described Heck as dedicated to his research. He said he regularly sends Heck articles about developments in palladium and cobalt research, "and he writes me back with comments on the chemistry."
Klaus H. Theopold, professor and chairperson in the Department of Chemistry and Biochemistry, noted that public recognition for the importance of Heck's research was "a long time coming."
"Considering that the work he is being honored for was initiated in the late '60s and its scope was developed over the next decades at UD's Department of Chemistry and Biochemistry, he had to wait for a long time for the payoff," Theopold said. "His was the kind of discovery that takes a long time to catch on. Today, palladium-catalyzed cross couplings are among the most common organic reactions, and the importance and efficacy of these transformations is no longer questionable. In an even better world, Dick Heck's pioneering contribution would have been recognized earlier, but 'better late than never.'"
Heck earned his bachelor's and doctoral degrees at the University of California Los Angeles. After postdoctoral work, he took a position with Hercules in Wilmington, Del., where his remarkably productive research career led to his move to the University in 1971.
His contributions have previously been recognized by the Wallace H. Carothers Award, bestowed by the Delaware section of the American Chemical Society in 2005, and the American Chemical Society Award for Creative Research in Synthetic Methods, in 2006.
This is the second Nobel Prize winner with ties to the University's Department of Chemistry and Biochemistry. The late Daniel Nathans, who graduated from UD in 1950 with a bachelor's degree in chemistry, won the Nobel Prize in Physiology or Medicine in 1978.