Professor urges sense of community among scholars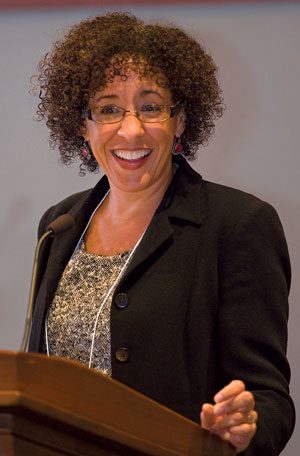 Photo by Evan Krape
ON THE GREEN | Gabrielle Foreman, who will join the UD faculty in January as the Ned B. Allen Professor of English, paid an early visit to campus in October to speak to some 70 McNair Scholars from across the U.S. and inspire them to even greater achievements.
Rather than viewing themselves as members of "individual McNair cohorts," Foreman encouraged the scholars convened at the University to think of themselves as a community.
"We're a community garden," said Foreman, a professor of English and American Studies at Occidental College before her move to UD. "We can affirm our inner nerd."
She delivered the keynote address at the National McNair Scholars Research Conference and Graduate School Fair. The annual event engages the scholars in a simulated professional research conference and provides an opportunity to network with faculty and students from across the country.
Named in honor of Ronald McNair, the late physicist and NASA astronaut, the McNair Scholars program is designed to prepare low-income, first-generation college students and underrepresented students of African American, Latino and Native American descent for academic success as undergraduates onward through the earning of a doctoral degree.
Foreman referred briefly to her own research experiences as a literary archivist, recovering "buried archival remnants" of lives such as that of author Harriet Wilson and finding ways to build on their struggles for justice.
In the Penguin Classic's reissue of Wilson's Our Nig or, Sketches from the Life of a Free Black, first published in 1859, Foreman and co-editor Reginald Pitts "managed to pick up one of the coldest trails in 19th-century African American studies," as one reviewer put it.
Instead of dying in poverty shortly after the book was published, as many had assumed, Wilson, the author of the first novel by an African American woman, was discovered to have been well known across the East Coast for her hair care products, and, after the Civil War, as "Boston's eloquent and earnest colored medium."
Foreman also spoke of the realities of diversity in academia, noting that in this decade, some highly prestigious universities still have no tenured women of color on their faculty. "Zero is a number, but it ain't natural," she said.
She pointed out that there have been major achievements, with African Americans and Latinos appointed as university presidents, among them Shirley Jackson, president of Rensselaer Polytechnic University. However, countering such progress, African American women are the fastest-growing group in incarceration, and the median net worth of single women of color, ages 36-49, is just $5, Foreman said.
"These are the uncultivated fields of our destiny," she noted. "If we want to plant our seeds and harvest them, we must tow our water on our own fine backs and not be afraid of the sweat and the stench."
Foreman gave the scholars some advice for cultivating academic success, including:
"Mentoring matters—'Each one, teach one,' is not enough. Each one, each year, must teach 10. Find a mentor and be one.
"Give and also ask. Reciprocity is power sharing.
"Transform relationships. As you conduct research, link with groups on the ground. Scholars often do not share the results of their research back with the community groups on which they have done research. Translate ideas back to these groups in their native language.
"Think of yourself as a research conduit. Ask for funds to support undergraduate research mentoring."
Article by Tracey Bryant