Institute focuses on Chinese language, culture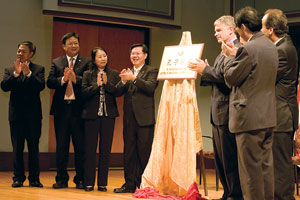 Photos by Kathy F. Atkinson
ON THE GREEN | Gong xi, Professor Chen! Soon, the UD community may know that "gong xi" means "congratulations" in Chinese, with the help of the new Confucius Institute's focus on Chinese language, culture and entrepreneurship.
Jianguo Chen, associate professor of Chinese studies and director of the Chinese program in the Department of Foreign Languages and Literatures, has been appointed director of the Confucius Institute, which was launched on campus in October.
The institute is a University-wide program in which interdisciplinary and global academic and cultural programs and initiatives are developed with ample participation from a variety of colleges, departments and other units throughout campus, as well as the Delaware community. It is a partnership between UD and Xiamen University in China.
"Professor Chen is a highly respected scholar with significant experience in developing collaborative, international programs," says UD Deputy Provost
Havidán Rodríguez. "We look forward to his leadership of our new Confucius Institute, and we thank our colleagues at Xiamen University and at Hanban/Confucius Institute Headquarters for their support and collaboration in this exciting endeavor."
China began establishing Confucius Institutes in foreign countries in 2004 in response to public interest in China and the country's increasing role in the world's economy and culture. Today, there are 316 institutes around the world, including 66 in the United States.
The broad goals of the institute include enhancing the understanding of Chinese language and culture, strengthening educational and cultural exchange and cooperation, expanding and enhancing relationships and collaborations between China and other countries around the world and promoting a world of multiculturalism.
"I'm excited about the appointment. It's a great opportunity and a great challenge because not many other universities have taken this step before," Chen says. "The University of Delaware has a bold plan to globalize the campus, and I look forward to contributing significantly to that plan."
The institute was formally inaugurated in an Oct. 19 ceremony capped by celebratory performances ranging from a violin virtuoso's serenade to a traditional Chinese lion dance.
The Confucius Institute will advance several of the University's most important goals, UD President Patrick Harker said, including expanding its international reach and amplifying its impact, strengthening global partnerships and developing collaborative initiatives in international and transnational issues.
"Through the institute, we'll build interest and competence in Chinese language and culture and instigate a deeper appreciation of China's global importance, not just among members of the University community, but throughout the state and region," Harker said.
He noted that the Confucius Institute also will build a strong bridge between the University and the private sector, fostering economic scholarship and entrepreneurship.
"Confucius, the great thinker and philosopher, proposed that harmony is the highest form of relationship between people, nations and states," Xiamen University President Zhu Chongshi said at the inaugural ceremony. "This has become the most precious element of China's cultural heritage."
Building strong international partnerships has been a hallmark of Xiamen University, which has more than 150 inter-institutional agreements for student exchanges and joint research.
Article by Tracey Bryant