New bookstore coming to Main Street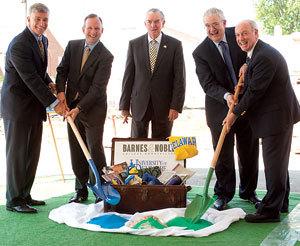 Photo by Kathy F. Atkinson
ON THE GREEN | Construction of a new UD Bookstore began in August, when the University and Barnes and Noble broke ground for the new Main Street building.
UD, which has partnered with Barnes and Noble since 2002, recently signed a 15-year contract extension to continue the collaboration.
"Locating this bookstore on Main Street really opens us up to the town," University President Patrick Harker told those gathered for the event, held in a tent on the large tract that touches Main Street, Academy Street and Delaware Avenue. "Newark is so important to UD, and UD to Newark, and this will be such a lively intersection of city and University. Great universities help build great neighborhoods, and I can't wait to see the kind of energy this bookstore brings to an already thriving downtown.
"This project, as much as any other, is a recommitment to our mission to cultivate a truly inclusive community of thought and scholarship. It'll be a great venue for professors and writers not only to share their work with students, residents and visitors, but to really engage them in it."
Max Roberts, president of Barnes and Noble College Booksellers, said the project is more than an attractive store. "What we're going to build here is a modern day village green—a place that will welcome UD and Newark communities, a knowledge center where people of all ages will come to feed their intellectual curiosity, connect with peers or maybe just find a comfortable place to study," he said.
The firm Digsau is serving as the architect on the project, and Buccini/Pollin is the design-build contractor. The store is scheduled to open in September 2011.