Economics professor to lead Honors Program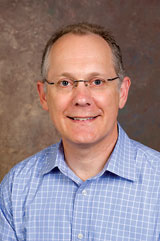 ON THE GREEN | Michael A. Arnold, associate professor of economics, has been named director of the University Honors Program. He succeeds Alan Fox, professor of philosophy, who served as director since September 2008.
"We are very enthusiastic and pleased that Michael has accepted the position of faculty director of the Honors Program," Deputy Provost Havidán Rodríguez says. "We are very confident that he will do an outstanding job and will continue to build on the strong foundations of the Honors Program as we continue to develop academic initiatives that are intellectually stimulating, that actively engage students in experiential learning experiences and that contribute to the students' excellent educational formation at the University of Delaware."
Margaret Andersen, acting associate provost for academic affairs, says Arnold will bring strong experience in working with undergraduates as well as a demonstrated commitment to working with diverse groups and diverse ideas.
"I am excited about undertaking what is, to me, an ideal position," Arnold says. "The Honors Program is well established, has a great reputation and also presents many new opportunities to advance the mission of the University and key objectives of the Path to Prominence."
Arnold, who joined the UD faculty in 1992, teaches in such areas as microeconomic theory, economics of the Internet, the economics of information and game theory. His recent research explores the impact of the Internet on market competition and equilibrium pricing.
He is a member of the American Economic Association and referee for a number of journals on economics.