Area Studies enhances its global reach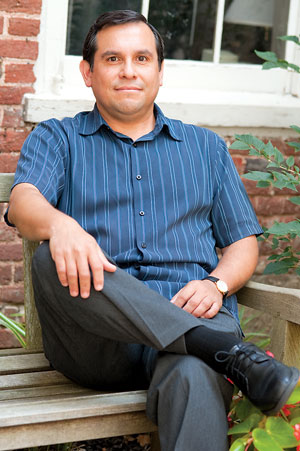 Photo by Evan Krape
ON THE GREEN | The six Area Studies programs at UD have always been highly interdisciplinary and wide-ranging, exploring parts of the globe from Europe to Asia, and Africa to Latin America, while also examining the cultural and religious traditions of Judaism and Islam.
Now, as the University continues to extend its global reach, the individual programs are becoming more connected with one another and with other international programs.
"We'd like to link all these programs with the University's other global initiatives," says Julio Carrión, who was appointed director of Area Studies, part of the College of Arts and Sciences, effective July 1. "We aren't part of the Institute for Global Studies, but we have a very close relationship with the IGS because we provide a lot of the academic support for those initiatives."
Carrión, associate professor of political science and international relations who joined the UD faculty in 1998, has a joint appointment in the Latin American Studies Program. His experience with that program, one of the largest of the Area Studies components, has made him realize not only the importance of global studies but also the need to promote it, he says.
"Some of the Area Studies programs are older than others, but even the ones that have been around for a while have lacked visibility," Carrión says. "By coordinating some of our activities—and having a director for the first time—the idea is that they will all get the visibility they deserve."
Each program continues to have its own director and its own identity. The three programs in Asian, European and Latin American Studies, for example, offer bachelor's degrees as well as minors, while those in African, Islamic and Jewish Studies offer minors.
By definition, area studies programs are interdisciplinary, bringing a variety of academic areas together in a program designed to give students comprehensive knowledge of a geographic region or a particular civilization. UD's Area Studies faculty members come from such fields as foreign languages and literatures, anthropology, history, political science and international relations, geography and philosophy, among many others.
In addition to increased visibility for Area Studies, Carrión says new activities are planned in programs and research.
"One of the goals we have is to strengthen transnational research, particularly in global types of issues like migration or health that cut across different regions," he says. "We also will continue to expand our study-abroad programs, where faculty who are part of Area Studies are a key component."
One new offering this fall has been a semester-long lecture series, which has included all six programs and is associated with a general course, Research in Area Studies. Alice Ba, director of the Asian Studies program and associate professor of political science and international relations, coordinated the speaker series, but she calls it a cooperative project.
"The speaker series is an example of how the different Area Studies programs are working together, building on mutual strengths and encouraging inter- and trans-regional themes and dialogue in both research and teaching," Ba says.
The lectures, which have included both UD faculty members and other experts, were focused on the topic "Global Citizenship" and were open to the public as well as to students enrolled in the class. The course itself has been offered before, but Ba says funding was increased this year "to support more high-profile speakers from outside the University."
Article by Ann Manser, AS '73