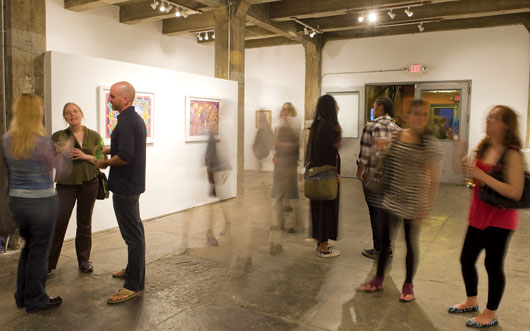 Photos by Evan Krape
Gallery gives artists a wider audience
Art students, faculty and alumni from UD are making their presence known beyond Delaware through UD@Crane, a satellite gallery that is part of an energetic arts community in Philadelphia that showcases both established and up-and-coming artists.
The University began renting space in the Crane Building, a 105-year-old former plumbing company in the Northern Liberties section of the city, in 2007 as a way for master of fine arts (MFA) students to display their work to a broader audience. Since then, UD has leased a two-story, 3,000-square-foot space in the building for MFA shows as well as other art exhibits and interdisciplinary activities such as poetry readings.
The Crane has grown in popularity and attendance, with schools such as the University of Pennsylvania and Temple University's Tyler School of Art also exhibiting there, and space is now at a premium. One exhibition this fall, "New Blood," highlighted works by the nine members of the newest MFA class.
"UD@Crane gives our graduate students, faculty and alumni opportunities to participate in one of the country's most vibrant urban contemporary art communities," says Joann Browning, associate dean for the arts in the College of Arts and Sciences. "Having our students' work on display here draws a lot of attention as people wander in from other parts of the building and see what we're doing at the University of Delaware. It puts us in the mix."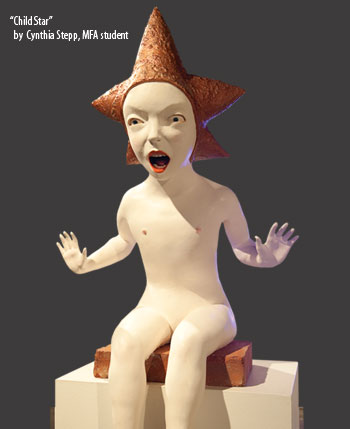 Janet Hethorn, professor and chairperson of the Department of Art, says the increased visibility already has attracted more applicants to UD's highly selective MFA program. It also has given alumni in the region an expanded opportunity to continue their involvement with the University by exhibiting in the space.
"By coming to the Crane, I feel like we caught the wave at just the right time," Hethorn says. "This space really brings the University to a regional audience. It's an engagement that builds possibilities."
A second exhibition that ran at the same time as "New Blood," titled "Everyone Wants to be Famous," included pieces by faculty members David Brinley and Peter Williams and 2008 MFA graduate Michael Kalmbach, as well as other regional artists.
Gallery director Anthony Vega, who earned his MFA in 2009 from UD, says he enjoys seeing visitors to the gallery "discover" the University. "It's fun to see visitors who weren't familiar with us before suddenly take notice," he says.
Article by Ann Manser, AS '73