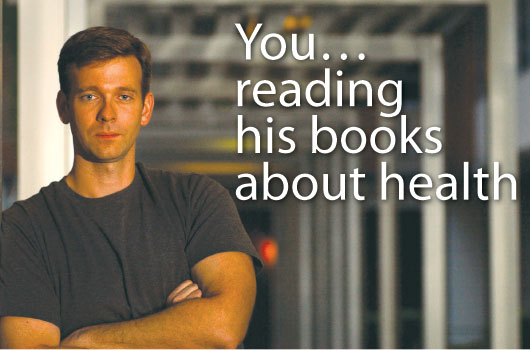 ALUMNI | Oprah Winfrey catapulted Mehmet Oz into the spotlight as America's doctor, but it was a University of Delaware graduate who helped launch him onto the list of the country's best-selling authors.
Ted Spiker, AS '90, now an associate professor of journalism at the University of Florida, is a co-author of the You… series of books on topics ranging from aging and beauty to dieting and pregnancy.
The books take a playful but pragmatic approach to serious health issues, which is why Spiker was such a good match for Oz and his medical co-author, Dr. Michael Roizen. Oz had already made a name for himself on The Oprah Winfrey Show by tackling difficult and even taboo medical topics in an entertaining way. He found Spiker through a referral from an editor at Men's Health, where Spiker had worked for three years before joining the University of Florida faculty in 2001.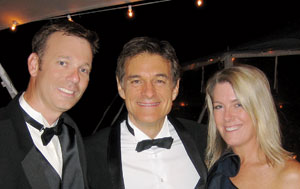 Photos courtesy of Ted Spiker
"Health writing can be tough," Spiker says. "You don't want to be too flip, but if you're too serious, you can lose an opportunity to have an impact. At Men's Health, I learned to convey good health information and research with a tone that's edgy, cutting and sometimes self-deprecating.
"With the You… books, we have a great team approach where everyone has a role. My job is to take the information provided by the doctors and researchers and write about it in a way that's fun, accessible and even a bit unpredictable at times."
Spiker isn't above using analogies, puns and hyperbole to convey his message. The pun in the subtitle to You on a Diet is The Owner's Manual for Waist Management, which points to the fact that the number on the tape measure around your waist is more important than the one on your bathroom scale. The serious message in the book about the medical risks of being too big around the middle is tempered with jokes about dead-bolting the lid on the butter pecan, being tempted by volleyball-size muffins and making mistakes with Twinkies and Tootsie Rolls.
As head of the magazine sequence in his university's journalism program, Spiker teaches courses in such subjects as magazine management, basic and advanced magazine and feature writing, finding your voice as a writer, journalism as literature and health and fitness writing.
He says he has found a perfect symmetry in his teaching and his writing.
"They play off each other," he says. "The entertainment aspect of writing applies to teaching, too. It's the same challenge—getting the information across in a way that engages your audience, whether it's your readers or your students."
Spiker also appreciates where the two diverge. "When I write, I'm trying to connect with some pretty large audiences through mass media, where I get little or no feedback," he says. "When I teach, I have 15 students in a class, and I get immediate feedback as to whether they're growing as writers and as human beings."
Although Spiker appreciates the almost infinite amount of information available today through electronic media, he's not ready to lay print to rest.
"We all get our information delivered in different ways depending on the circumstances," he says. "If I'm out and want to look something up quickly, I'll reach for my phone. But I don't want to be sitting on the beach with an iPad or curled up on the couch with a laptop. That's when I want to hold a book or a magazine and flip the pages and feel the paper."
Currently comprising six titles—You the Owners Manual, You Being Beautiful, You On a Diet, You Staying Young, You the Smart Patient and You Having a Baby—the latest series will soon also include one on effective parenting, You Raising Your Child.
"This is an interesting time to be writing about health and fitness," Spiker says. "There is a ton of information out there, but the public has an appetite for getting it delivered through books like these, where it's collected and packaged by people who know what they're talking about and where it has a beginning and an end."
Spiker has a particular love for magazines. He got his start in the field with Delaware Today, where he served as editor and assistant editor for several years. Since then, he has had hundreds of stories published in more than a dozen magazines, including Outside, Fortune, Cosmopolitan, Cooking Light, Prevention and Parenting.
His most recent foray into fitness writing with a fun twist is a blog for Runner's World, "The Marathon Virgin." In his first entry, he reminisces about a half-marathon he ran a decade ago. At mile six, he recalls, he heard a voice over a loudspeaker asking him if he needed water. It was an emergency medical technician with a bullhorn following the runners on the race ambulance.
"In my first test of endurance," he writes, "I showed up as the plodding parade horse being followed by men with shovels."
Self-deprecation at its finest—that's Ted Spiker.
Article by Diane Kukich, AS '73, '84M