Entrepreneur cooks up a successful career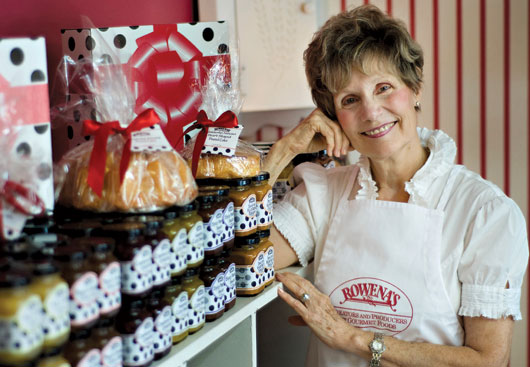 Photo by Tom Slusser
ALUMNI | Known as "the cake lady" in Norfolk, Va., Rowena Stanley Fullinwider, HS '60, says that she didn't choose the bakery business—it chose her.
After completing her bachelor's degree in medical technology at UD, Fullinwider became a Navy wife, working in hospitals and research labs in the towns and cities where her husband was assigned. She also was an active volunteer for causes ranging from the local opera to Operation Smile. She started baking pound cakes to donate to various fundraisers.
The cakes were so good, her friends and business associates encouraged her to start a business and sell them.
"Everyone wanted to buy our 'Wonderful Almond Pound Cake with Lemon Curd,'" she says. "It's still our best seller, 27 years later."
Since Fullinwider opened her cake factory in 1983, the company has grown to occupy a 15,000-square-foot facility that includes a retail shop, a tearoom, offices, two warehouses, a bakery and several kitchens. The Rowena line of products can be found in more than 2,000 gourmet and gift shops and catalogs across the United States.
Those products include not only her now-famous pound cakes in eight flavors but also specialty shaped cakes, logo cookies and a line of unique curds, jams and sauces. The company also makes cake mixes.
"Everything is made from scratch," Fullinwider says. "We even grate the carrots for our carrot jam."
As president of Rowena's, her daily duties run the gamut from sales, promotions and demonstrations to troubleshooting and management. Despite her many business responsibilities, she has found time to pen two story cookbooks for children, Rowena and the Wonderful Jam and Jelly Factory and Rowena and Carrot Jam, the Rabbit.
She refers to her company, which currently employs 14 women, as "small but mighty." That phrase also describes Fullinwider herself, who took on the Food and Drug Administration and Congress in the 1980s when she thought that food labeling requirements placed an undue burden on small operations like hers. She successfully lobbied for a small-business exemption in a regulation that became known as "Rowena's Bill."
"My chemistry background came in handy for that work," she says.
Author George Whalin included Rowena's in his book Retail Superstars: Inside the Best 25 Independent Stores in America, citing the company for its quality products and customer service, and Fullinwider herself has received a number of awards.
Despite her success, she urges caution to budding entrepreneurs. "If you're thinking of starting a business," she says, "keep your day job. I'm a risk taker, but in this economy, it's really taking a chance."
Rowena's has weathered the downturn in the economy, but Fullinwider's main concern is the economic health of her employees. "Many of them are single parents, and they need to work to take care of their families," she says. "I'm currently looking for a buyer for the business, but I won't sell to just anyone—I want to make sure all 'my girls' keep their jobs."
Now a successful 21st-century businesswoman, Fullinwider attended UD in an era when female students went to Blue Hen football games wearing high heels, their best suits and fresh flowers pinned to their jackets.
"The University gave me memories and a lifetime education," she says. "What fun now, at our 50th anniversary, to look back and start to renew those special friendships."
Fullinwider is happy to offer words of wisdom to any visitor or caller who is interested in hearing her philosophy of life. Not surprisingly, "Life is short, so eat dessert first" tops the list.
Another of her aphorisms is that if you make a good product, people will buy it. That has proved true for her around the world. She recently received an email from one satisfied customer, Maj. Kevin Rice, who was stationed in Iraq.
He wrote: "Attached is a recent photo of me enjoying my lemon pound cake on the hood of my Humvee. Used my bayonet to cut into it. I've received Rowena's products for years while I have been overseas. Once upon a time, I even worked there in Rowena's. I was one of the Christmas school break holiday help the first year or so it was opened. The name was a little different then, but the great product remains the same."
Fullinwider also believes that those who give back to the community will be rewarded abundantly, a belief that has been confirmed in the path her own life has taken. She still cooks for charity—in February, she joined more than 35 of the area's top female chefs to prepare their best-known dishes at the Ovarian Cancer Gala, held at the Ritz Carlton in Washington D.C. In one night, they raised more than $350,000. That cause is especially important to Fullinwider, who is a survivor of ovarian cancer.
"I never ask 'Why me?'" she says. "It's much better to ask, 'What can I do about it?' and then just do it."
Article by Diane Kukich, AS '73, '84M