Travel company connects people, objects, places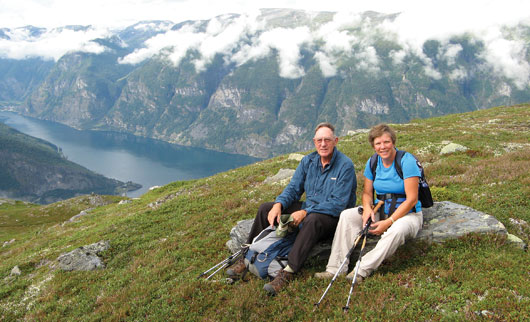 ALUMNI | Amy Boyce Osaki has combined her love for travel with her ability to connect with people and share with them exotic locales around the world through her specialty travel company, Walking Softly Adventures.
She and her husband, John, led their first small-group trip to the Italian Dolomites in 1995, and they decided in January 1996 to start a company that would help small groups of people get in touch with art and culture around the world.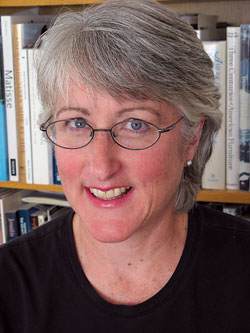 Photo courtesy of Amy Boyce Osaki
Osaki, who earned her master's degree at the University's Winterthur Program in American Material Culture in 1988, says that when she applied to the program, she "indicated my passion was for connecting people to powerful objects and places from the past.
"For me, it was never enough to study the objects. I had to then connect people to them."
Through Walking Softly Adventures, Osaki gets to do just that, traveling the world with small groups averaging eight to 10 people and connecting them to interesting places by showing them how, according to the company's website, "Human creativity has fashioned a cultural heritage that is endlessly rich and varied, yet at many times surprisingly similar and familiar."
This past May, Osaki led a group to Auvers-sur-Oise in France "following the steps of Vincent van Gogh and literally walking through the landscape where he painted 72 paintings in his last 70 days," she says.
In October, Osaki headed to Koyasan, a Japanese monastic community founded in the ninth century.
Says Osaki of guiding trips, "My skills learned at Winterthur are applied to teaching others about the paintings, architecture, temples and objects they view and understanding how these objects relate to the time in which they were created, the people who made and used them and, in the case of Japan, with the continuity of use until the present time."
Typically making four to six trips a year, Osaki has now led more than 65 trips in 15 years, and over that time, she has traveled to five continents, been around the world three times and visited 15 different countries.
Osaki says it is very hard to pick out one place that is her favorite to visit but concedes that Paris and Japan both hold a special place in her heart because, "Paris is where I began as an international traveler in high school, where I studied for a year as an undergraduate at the Sorbonne and the Louvre, and where I relish employing my fluency in French. Japan is rich, fascinating and rewarding, and provides a link to my husband's ancestors."
Osaki also singles out Italy's Dolomite Mountains for mountain hiking adventures and Bulgaria, where she and her husband are building a four-bedroom inn near the border with Greece.
Now equipped with a team of talented trip leaders who can host expeditions on their own, Osaki and her husband are no longer required to lead every trip run by Walking Softly Adventures. With that team—and with their other venture, a separate entity for their active mountain hiking trips called Mountain Hiking Holidays—Osaki estimates that they run about 20 trips a year.
Osaki says she believes the best aspect of her job is "being self-employed and president of a company I co-founded. I enjoy the flexibility and freedom and also experience the continual challenges of the marketplace. This involves taking my passion for research and connecting people to powerful places around the world, and making it work economically.
"I suppose it is similar to craftsmen and artisans throughout time who had to balance the time spent lovingly creating objects with the return they could earn by selling them."
A virtual tour is available on the company's website, www.walkingsoftly.com.
Article by Adam Thomas