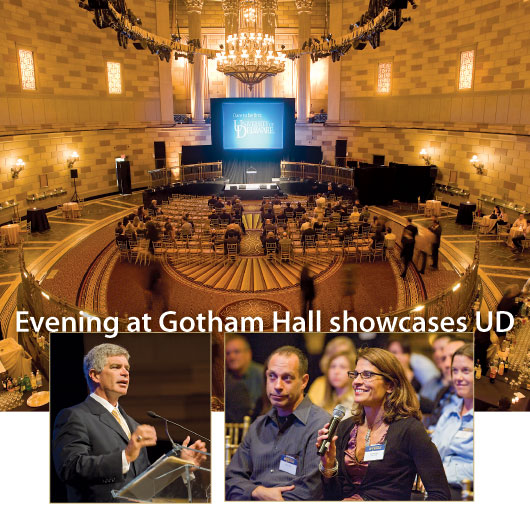 Photos by Evan Krape
ALUMNI | To a visitor standing inside Gotham Hall, on Broadway at 36th Street in New York City, it might not seem extraordinary if Batman swept in to save civilians from harm.
The dimly lit, ornate central room in a stately former bank where 100 alumni and friends mingled the evening of Sept. 16 looks the part. Luckily, the Caped Crusader's assistance was far from necessary. The crowd enjoyed a pleasant evening of camaraderie topped with a talk by UD President Patrick Harker.
Harker shared the big ideas behind the University's new branding campaign, "Dare to be first," touted recent accomplishments by faculty and students and discussed plans for construction of new facilities on campus.
He highlighted UD's role as a talent magnet. This year's freshman class finished high school with an A- average. In hiring new faculty this fall, he told the audience, the University was able to bring on a tremendous new crop of 50 talented individuals.
"The big idea here is that talented people come to UD because talented people are already here," Harker said.
The substance of the speech impressed Paul Marquez, a 1990 graduate of the Alfred Lerner College of Business and Economics, who now sits on the college's alumni board.
"I've been out of the University 20 years. It's exciting to see that Delaware is on its way to becoming a world-class educational institution," Marquez said.
Jane Berlant and her husband, Peter, attended the event because they have two daughters who are undergraduates at UD. "As if we weren't already proud to have our daughters here, we're even more proud when we hear what the plans are," she said.
Law student Christopher Lang, a 2010 graduate of the College of Arts and Sciences and the University Honors Program, was joined by two alumni friends at the event. He called the night a good opportunity to build relationships.
"I was able to meet some older grads, and it's a nice way to connect with them," Lang said.
The night's festivities were sponsored by the University and the New York City Alumni Club. Blue Hen alumni and friends from throughout the metropolitan area were invited to attend the event.