New Judge takes seat on federal bench
Leonard Stark, who graduated in 1991 with bachelor's degrees with honors in political science and with distinction in economics and a master's degree in history, has been confirmed as a judge on the U.S. District Court in Delaware.
Stark, who was nominated to the position by President Barack Obama more than a year earlier, was confirmed by the Senate in August. He had been serving as a federal magistrate judge in Delaware.
The University's eighth Rhodes Scholar, Stark went on to earn his doctorate at Oxford University in England and his law degree at Yale Law School. He worked as an associate with Skadden Arps Slate Meagher & Flom in Wilmington and, in 2002, was appointed an assistant U.S. Attorney for Delaware. He has received UD's Presidential Citation for Outstanding Achievement and previously served as president of the Alumni Association board of directors.
Vice President Joe Biden, AS '65, says he welcomes Stark's confirmation to the bench, calling him "an outstanding public servant whose roots in our state run deep."
Mayer and Biden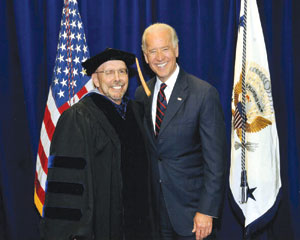 Robert H. Mayer, EG '67, '69M, '82PhD, professor and chairman of the Naval Architecture and Ocean Engineering Department at the U.S. Naval Academy, met up with a fellow UD alumnus at the academy's graduation ceremony in May 2010. Vice President Joe Biden, AS '65, delivered the commencement address and then posed for a photo with Mayer. Both men lived in the Harter residence hall as undergraduates in 1963.
South Dakota State president shares Blue Hen memories
When the South Dakota State University football team ventured east to take on UD on Sept. 11, the Jackrabbits brought with them a Blue Hen.
South Dakota State President David L. Chicoine earned a master's degree in agricultural economics from UD's College of Agriculture and Natural Resources in 1971. He also received a bachelor's degree from South Dakota State in 1969, a master's in economics from Western Illinois University in 1978 and a doctorate in agricultural economics from the University of Illinois in 1979.
Chicoine, who was named president of South Dakota State in 2007, says he and his wife, Marcia, have fond memories of their time spent in Delaware. He says the move to Delaware in 1969 marked their first time east of the Mississippi River and proved to be an "interesting and exciting life experience."
Working in both Newark and southern Delaware, Chicoine says he and his young family enjoyed seeing the Atlantic Ocean, the first time they had viewed an ocean beach, and eating soft shell crabs. They visited the Delaware and Chesapeake bays, learned about the Delmarva Peninsula and toured many sites in the Brandywine Valley.
"It was a transformational period for us—a great, great experience," Chicoine says. "We liked the campus, which was larger and very different from the northern Great Plain prairie landscape of South Dakota State."
Alum competes in Ironman event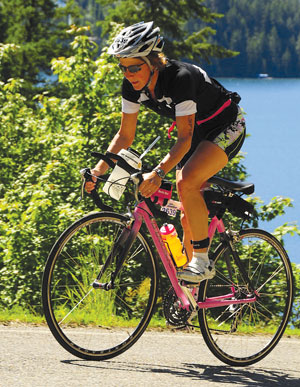 Anne Boulden Johnson, HS '83, of Elkridge, Md., competed with 2,500 other triathletes in her first Ironman event in Coeur d'Alene, Idaho, on June 27, finishing the 140.6-mile event in 15 hours and 31 minutes. Johnson is general manager of the Belmont Conference Center in Elkridge.
Medical technologists reunite at conference
Mary Ann McLane, professor of medical technology who recently completed a one-year term as president of the American Society of Clinical Laboratory Science (ASCLS), encountered three former UD students while attending the society's annual meeting in July. McLane was able to spend time with fellow attendees Keely Pierzchalski, HS '06, now a doctoral student at University of Maryland; Dara Missan, HS '06, a doctoral student at Albany Medical College; and Rebecca Boyer-Anderson, HS '07, president of the Delaware constituent society of ASCLS. As immediate past president of ASCLS, McLane is continuing to serve on the society's board of directors.
Book continues Schoonover legacy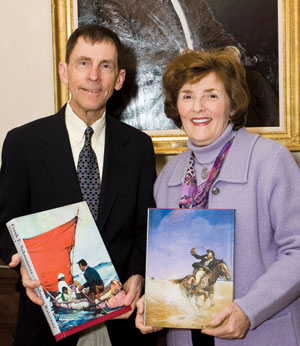 Louise Schoonover Smith, AS '63, and her brother, John Schoonover, have completed a two-volume work showcasing the career of their grandfather, artist Frank E. Schoonover. They presented the Frank E. Schoonover Catalogue Raisonné, co-authored with LeeAnn Dean, AS '75, to UD President Patrick Harker at a recent ceremony on campus. Frank Schoonover had many ties with UD, including painting the official likeness of the University's founder, the Rev. Francis Alison, and being awarded an honorary master of arts degree in 1963. Smith retired early from her teaching career in New Jersey to work on the book.