General praises commitment, trust, teamwork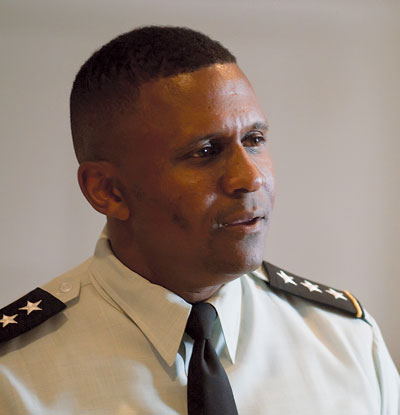 Photo by Doug Baker
ALUMNI | Lt. Gen. John Morgan, AS '79, the highest-ranking UD alumnus now serving in the Army, returned to campus in October for the first time since his graduation to meet with administrators and to share some of his experiences with Army ROTC cadets.
"I'm just like you," the three-star general told the cadets. "I lace my boots, I lace my shoes, I put my pants on, I tie my tie the same way in which you are doing right now as you prepare to come on active duty."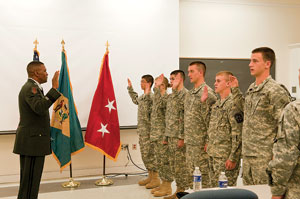 Photo by Doug Baker
Lt. Gen. John Morgan (shown here and above) tells ROTC cadets to find balance in their lives.
He said he hoped his advice and words of encouragement would be heard whether his listeners planned to continue their commitment to the military after graduation or not.
Instead of producing a generic PowerPoint presentation, the general clicked through a progression of slides involving photographs and few words.
"I didn't want to waste your time with a whole bunch of words," he said. "The images will spark different thoughts in your mind, but I wanted to give you a perspective about some of the traits that I think are important."
He used pictures to tell the story of his own path since college, as well as to showcase his personal heroes, from his father to Gen. George Marshall, winner of the Nobel Peace Prize, to shortstop Derek Jeter of the New York Yankees.
"You represent something that is bigger than you," Morgan said about what makes the leaders his heroes. He also chose various inspirational photos to show some of the traits—commitment, trust and teamwork—he believes are necessary for future soldiers to possess in representing and fighting for their country.
A member of the men's basketball team while he was a student majoring in criminal justice, Morgan told the cadets it is crucial to maintain and practice balance in life, especially between service and family.
"It's about families. It's about finding balance," he said. "As a leader on active duty, you will be responsible not only for the training and the welfare of the soldiers that you will lead, but you will also be responsible for families."
While his military travels have taken him to five of the seven continents, Morgan currently lives with his wife and two teenage daughters on assignment in Heidelberg, Germany, where he is the commander of the North Atlantic Treaty Organization (NATO) Headquarters Allied Force Command Heidelberg.
One picture in Morgan's presentation was of a bridge that sits over the River Drina in Bosnia and Herzegovina. The work he does with NATO helps the organization serve as a bridge between the United States and its European allies, he said.
"A bridge gives people the opportunity to communicate, to relate, to understand the world in very positive ways," Morgan said. "The University of Delaware for you right now, in terms of education, is a bridge to your future, whether that's in the military or not. It's the bridge that you walk across. It's the path."
He admitted that he didn't originally want or expect to have a military career.
"When I was a cadet, I never in my wildest dreams imagined that I would serve this long or achieve some of the rank that I've achieved in the military," he said. "When you get to a certain point, it's not about how much further you're going to go, just how much more you can continue to contribute."
Article by Katie Speace, AS '11