Former McNair Scholar shares words of encouragement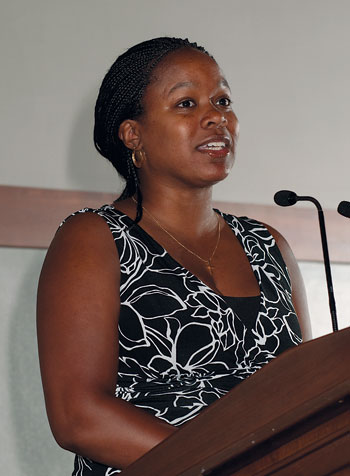 ALUMNI | Jade Logan, AS '04, who recently earned her doctorate in clinical psychology from the University of Massachusetts Amherst, returned to UD in August to address the Ronald E. McNair Scholars Program.
Logan, who was a McNair program participant, earned her bachelor's degree with distinction from UD. As she continued on to graduate school, she told the new McNair Scholars, she faced new challenges and heard words of wisdom for meeting those challenges.
The first words of wisdom she cited came from the song I Like Myself, a tune often played at kindergarten graduations. She said the tune became the theme song of her clinical research lab group and was the song that lab members sang to her during her going-away party.
"My best friend and fellow scholar inadvertently taught me that song during one of my many visits to her home," Logan said. "While it seemed very silly to me at first, it became a very powerful verse for me and my colleagues. The biggest message that I took from that song is to always remember just how smart and strong I am."
She also told the students that as a professional, it is important to learn how to work with others, even when you don't see eye-to-eye on how things should be done. "You can even have fundamentally different views of things, but you still need to finish that project as a team," Logan said. "This was one of the hardest struggles of all, and I definitely needed to remember that I couldn't give up on myself."
Finally, she said, she had to learn that there is a difference between perfection, which is unattainable, and excellence, which results from bringing your very best efforts to your life and career.