Dark days lead to bright hopes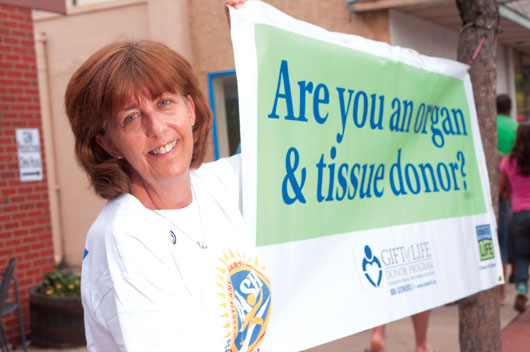 Photo by Duane Perry
ALUMNI | Two decades ago, when Mary Coyle, AS '79, found out that she needed a kidney transplant, the news almost caused a fight among those of her siblings who were good medical matches for her: All three of them were determined to be the donor.
In the end, her brother, Chad Johnson, AG '81, won. "He was single, healthy and huge," Coyle recalls. "He was also getting a Ph.D. [at Louisiana State University] in animal science and was fascinated by the whole thing."
While the transplant surgery is much less invasive and simpler today, Coyle and Johnson faced significant pain and a long recovery period in 1990. Coyle, the mother of a toddler at the time of her diagnosis, returned to work about six weeks after the operation and gave birth to a second son in 1993. Johnson went on to earn his doctorate, get married and have four children.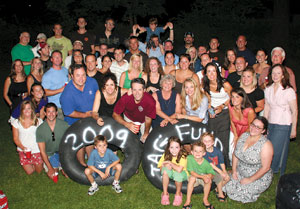 "Chad gave the gift of a lifetime," says Coyle, who continues to work as a librarian, leads a physically active life and volunteers with the Gift of Life organ-donation program in the Philadelphia region. "He's a hero not only to me but to everyone who hears our story."
The experience has motivated Coyle, who is married to Edward Coyle, EG '79, to encourage others to register as organ donors. She volunteers at community events and health fairs in Delaware and the tri-state area to spread the word through Gift of Life. And, she says, she also repays her new lease on life every year by sending her brother, whom she describes as "completely humble" about what he did, a special reminder.
"Every May 31 [the anniversary of the transplant surgery] he gets a thank you note from me—with a picture of my boys so he can remember why he did this," Coyle says.
Mary Coyle is one of many UD alumni who have turned difficult personal experiences—sometimes tragedies—into a commitment to work to help others. Following are just a few of their stories.
For Stewart Krug, EG '75M, the horrifying, life-changing experience that led him to create a nonprofit foundation came in July 2001, two days after his son Matthew had turned 16. Matt, who played sports and had always seemed in good health, was playing basketball at his neighborhood swimming pool when his heart suddenly stopped. Despite rescue efforts on the scene and en route to the hospital, Matt remained in a coma and died 12 days later.
Matt's family learned that he had suffered from hypertrophic cardiomyopathy, a "silent" disease that affects the heart muscle over time and generally isn't detected by routine physicals. Stewart Krug became determined to educate others about the disease and to advocate for such preventive measures as free cardiac screenings for student athletes.
Krug also is working to help young people survive if they suffer a sudden cardiac arrest. Through the Matthew Krug Foundation, he has devoted his efforts to getting defibrillators installed and maintained in public and private schools in Delaware, giving victims the earliest and best chance at recovery.
"With each minute that passes without treatment following an attack, chances of survival are reduced anywhere from seven to 10 percent, and brain death begins within four to six minutes," Krug says.
Another charitable foundation with a great deal of support from UD alumni is the Joel A. Gingras Jr. Memorial Fund, established in 1989 to help pay medical expenses for Gingras, who had died the previous year at age 27 from a brain tumor. The organization, known as the JAG Fund, has raised more than $1 million for the American Brain Tumor Association and has funded 12 fellowships for research in search of a cure.
Domenic Salvato, BE '99, is one of more than 10 alumni serving on the JAG Fund board. Their involvement began through friendships with Joel Gingras' younger brothers, Matthew Gingras, BE '99, and Christian Gingras, BE '97. Both brothers are members of the fund's board, along with other family members, and Christian is vice president.
The organization's fundraising activities include an annual golf tournament and a tube float on the Delaware River, both of which attract substantial participation from fellow Blue Hens, Salvato says.
"Both of these events draw dozens of UD alumni from all over the East Coast," he says. "As vehicles to promote awareness and raise money for a cure, they have been extremely successful."
Just as the Gingras brothers work with the JAG Fund, the Delaware Breast Cancer Coalition praises what it calls its "sister act" of highly motivated volunteers for the cause of education, prevention and cure. Carol Knotts, BE '72, and her sister Bev Michel, who also attended UD, were looking for a volunteer activity in memory of their mother, Ann Knotts, who died of breast cancer in 2002.
"This dynamic sister team has brought their individual skills and interests to the fight against breast cancer and especially to [the major fundraiser] 'Northern Lights of Life: An Evening of Living and Giving,'" according to a recent coalition newsletter.
Last year, Knotts entered a contest called "So You Think You Can't Dance" in the publication Out and About and was selected as the winner of a series of personal-training sessions and private dance lessons. At the end of the sessions, she gave a dance performance, with the proceeds of more than $1,000 donated to—not surprisingly—the breast cancer coalition.
"My mother…was a phenomenal dancer and always tried to teach me," Knotts says. "When I entered the contest, I thought of it as a chance to do this for my mother."
Yet another alumnus, Jim Crescenzo, BE '76, has created a different and special kind of foundation in memory of a loved one. The Remembering Jamie Foundation celebrates the life of Jim and Margaret Crescenzo's daughter, who was killed in a car accident during a 2000 snowfall.
Jamie Crescenzo, the oldest of four children, was a 20-year-old college student in southern New Jersey and considering a future as a police officer when she died. After seeing the community's response to her death and the outpouring of support, Jim Crescenzo said he and his wife decided to establish the foundation.
Each year, Remembering Jamie holds a fundraising dinner and a golf tournament and has created scholarships at Atlantic Cape Community College and at Egg Harbor Township (N.J.) High School, both of which she attended. Other donations go to Sunday school and Police Athletic League programs.
"The purpose of the annual dinner is not to be sad," Jim Crescenzo says. "It's about 10 years of remembering, to be happy doing things to honor her."
Article by Ann Manser, AS '73