Doing good while doing business
by Jeff Dean, AS '95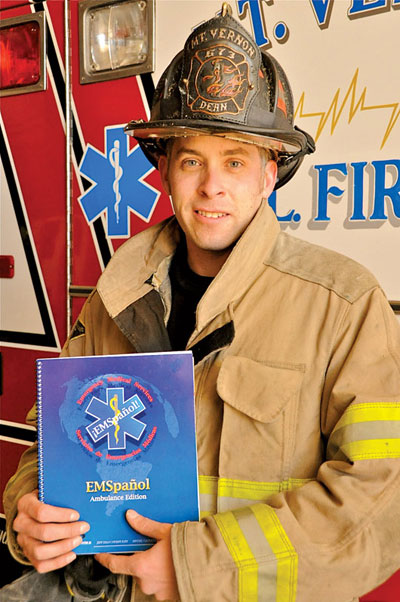 Photo by Tracy Sahler
Paramedic/firefighter Jeff Dean holds the bilingual phrase book he helped develop.
ALUMNI | From a distance, in the shimmering heat, I thought he was a box on the side of the road. The temperature on my dashboard read 102 degrees, and the pavement rippled in bright sunlight. As I passed at 60 mph I glanced over and blinked in disbelief.
It was not a box. It was a man—conscious, but slumped next to a bicycle. At the speed I was traveling, in the congestion of the afternoon commute, I had to drive another half mile before I could cross the median and return.
Calvin lifted his head as I stopped. The gauge jumped to 107 degrees. He accepted a bottle of water and rubbed cramps out of his legs. "Thank you," he croaked and rose to remount. A lifelong cyclist myself, I marveled at the dog-breath combination of heat, humidity and headwind and asked him what he was thinking riding in weather like this.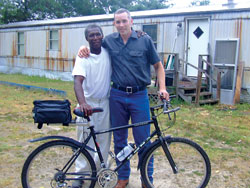 Dean gives a donated bike to a man who needs transportation to his job.
"No choice," he said. "This is how I get to work." He told me he rides an hour each direction six days a week to his job as an electrician's helper. I catalogued his machine; it only had one pedal. I squeezed the brake levers; they were frozen. I pushed the shifters; his derailleur was fixed in place.
So after dropping Calvin off at his house, I called my business partner and close friend Miguel Castañares and asked, "Want to buy a man a bike?"
Before I tell you Miguel's reaction, let me provide the context. Miguel and I are both career emergency medical services (EMS) providers and the co-creators of EMSpañol, a series of books to help English-speaking paramedics and emergency medical technicians assess and treat Spanish-speaking patients. We worked very hard for three years in complete obscurity before our project became an "overnight success."
Even after a six-month period in which we sold thousands of books throughout the United States, Canada and Mexico—even after securing a large-scale distribution agreement with Southeastern Emergency Equipment, one of the most respected EMS suppliers in the nation—we had not yet taken a paycheck for ourselves. Every dollar we made went back into the business.
Yet here I was asking Miguel to take the first of this hard-earned money and buy a complete stranger a bicycle.
He laughed. "Sure. Why not?"
Now before you think we are mush-minded idealists, let me say that I did go home to my computer and do a background check on my new friend. Nothing, thank God. Then I called his boss and learned that Calvin was indeed a hard worker who rarely missed a day.
So I dug out one of my old racing mountain bikes and did a quick inventory. New tires and tubes, a new drive train, a couple of cables, and we'd have a solid bike to donate. Miguel came over and we got to work.
Just 24 hours later, we were knocking on Calvin's door with his new ride, complete with a rack, fenders, a bag, a lock, spare tubes, a frame pump, patch kit and—thanks to the Maryland State Highway Safety Administration—a brand-new helmet.
He stared at me, stared at the bike and asked, "Why are you doing this?"
I answered, "Why not?"
This year has been very good for us. EMSpañol is saving lives, and that's a great feeling. Beyond that, though, what Miguel and I would like to express with this article is that small-business owners are keystones of their communities. We are real people with real problems, working hard to help our families, friends and neighbors. When a small business fails, a cascade of failure follows.
Big business and compassion seem to be mutually exclusive, and I'm actually OK with that. The role of big business is to generate wealth, period. It is an important role. But small businesses are the caretakers of communities, and that's an important role too.
Since finding Calvin in that ditch, Emergency Language Systems and EMSpañol have sponsored a free youth soccer league, worked with the bilingual public relations firm BilCom Group to create a Spanish-language fire safety and prevention program for Hispanic and Latino children and developed the "Bikes for Breadwinners" program inspired by Calvin and his story.
Yet we have also grown our business, increased our profits and publicized EMSpañol throughout North America. Maybe in stumbling on Calvin, we also stumbled on a secret for communities to recover in tough economic times.
Support the businesses that do good while still doing good business.
Editor's note:
This article continues a UD Messenger series called "First Person," in which graduates share their professional or personal expertise on topics that are as diverse as our talented alumni. If you have advice to share or a story to tell, please send a one- or two-sentence description of what you'd like to write about to TheMessenger@udel.edu, and put "first person" in the subject line.