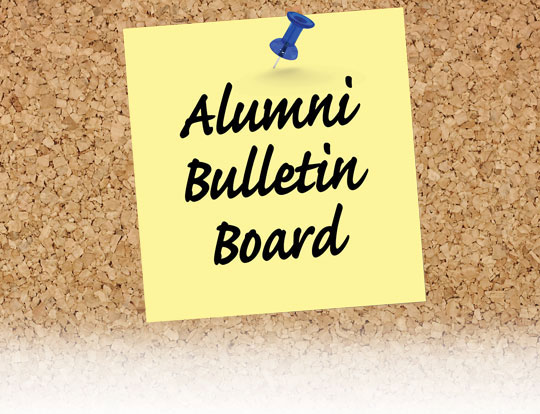 New alumni benefit highlighted
FineStationery.com, a national leader in the customized stationery industry, has teamed up with the UD Alumni Association to bring collegiate licensed invitations, announcements and stationery items to the University's alumni community. FineStationery.com offers an extensive product showcase and customer service and consistently delivers fresh designers and innovative brands to consumers and corporate clients throughout the world.
Visit UDconnection.com/services for more information about this and other affinity partners.
Alan Brayman, president of the UD Alumni Association, said, "The UDAA's partnership with FineStationery.com is a benefit that I hope all Blue Hens take advantage of. As the UDAA looks to expand the services we offer to alumni, I welcome suggestions or comments about programs to offer, so please send your ideas to alumnet@udel.edu."
Call for nominations and volunteers
Know of a deserving person who should be considered for University of Delaware recognition? Please submit your suggestion along with any pertinent information about the person's UD-related experiences and achievements as well as any professional successes.
Alumni Wall of Fame
In recognition of the many notable achievements of its alumni, the University and the UD Alumni Association established the Alumni Wall of Fame in 1984. The Wall of Fame recognizes outstanding professional and public service achievements by University graduates. Nomination forms and information can be found at www.UDconnection.com/alumni-wall-of-fame.
UDAA Board of Directors
The Association is governed by a board of directors consisting of three officers, 18 directors and the immediate past president. Three men and three women are selected annually to serve four-year terms.
New members begin their term on July 1 each year. The deadline for nominations is Jan. 16, 2011. If you are interested in volunteering to serve on the Board of Directors or with any programs, committees and activities, contact the Alumni Relations Office. Visit www.UDconnection.com/UDAA for more information.
Alumni club volunteers
Alumni clubs across the country are seeking energetic Blue Hens who are interested in serving on club boards. Volunteer roles of all levels are open for alumni seeking to get involved. So no matter where you are in the world, you can make a difference and represent UD. Visit www.UDconnection.com/clubs for information.
Also, if you are interested in organizing your affinity interest group (e.g. Marching Band alumni, field hockey alumni, The Review alumni) let us know, as the Office of Alumni Relations can help with planning and marketing.
Warner, Taylor awards for outstanding seniors
The UD Alumni Association's Emalea Pusey Warner and Alexander J. Taylor Sr. Awards annually honor an outstanding woman and man, respectively, of the senior class. Recipients must demonstrate leadership, academic success and community service as exemplified by Mrs. Warner and Mr. Taylor. The Warner Award was first given in 1950 while the Taylor award debuted in 1968. Students must also have a cumulative index of 3.0 or better at the end of the first semester of their senior year. Recipients are recognized with $2,500, are honored at a luncheon and lead the alumni delegates' procession at Commencement. Visit www.UDconnection.com/warner-taylor for more information and to nominate a student today.
Mark those calendars for club activities
Save the date and register online today for these upcoming alumni events. For more details and to register online, visit UDconnection.com/events.
Thursday, Dec. 9
Washington, D.C.,
Alumni Club Holiday Party
Saturday, Dec. 11
University of Delaware Alumni Breakfast with Santa,
Trabant Center, University of Delaware
Monday, Dec. 13
New York City
Alumni Club Open Board Meeting
Saturday, Dec. 18
Philadelphia Alumni Club Event for UD v. Villanova basketball
at Wells Fargo Center
Coming in 2011:
Washington, D.C. Alumni Club Happy Hour
Kent & Sussex Counties Alumni Club Family Event at Bonkersville
Philadelphia Alumni Club Happy Hour
Boston Alumni Club Community Service Event
Boston Alumni Club Event for UD v. Northeastern Basketball
Washington, D.C. Alumni Club U.S. Senate Reception
Kent & Sussex Counties Alumni Club
Dine Around/Progressive Dinner in Rehoboth
Handling honored at special gathering
An undergraduate scholarship has been established in honor of Keith Handling, long-time athletic trainer and associate professor of kinesiology and applied physiology. The award was unveiled at an alumni event in Philadelphia on June 23, held in conjunction with the annual meeting of the National Athletic Trainers' Association.
Handling, who joined UD in 1972, served as head athletic trainer from 1988 to 2008 and as director of the UD Athletic Training Education Program from 1988 to 2002.
"Keith has worked hard over the past 38 years to put UD athletic training on the map," says Thomas Kaminski, professor and director of athletic training education. "Honoring him in this way was only fitting, and to be able to do it in Philly, where our reception drew more than 150 athletic training alums, made the occasion even more special."
The scholarship will be given annually to an undergraduate student in the athletic training program who "shows a sincere desire to enter the health-care profession and demonstrates the qualities of respect, responsibility and concern for others without prejudice or intolerance." Selection criteria include grade point average, total clinical experience hours, and extracurricular activities and community service related to athletic training.
Handling holds bachelor's degrees in physical education and physical therapy from UD and a master's degree in physical education from West Chester University. To donate to the new scholarship, visit www.udel.edu/giving, click on "Make a Gift," and note "Keith Handling Award" in the "Other" designation on the form.
Reunion Tailgate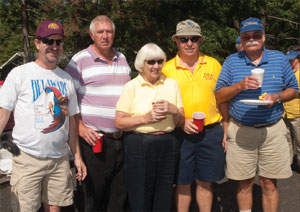 Like many informal reunions held by alumni across class years and at various times, a group of about 20 graduates from the 1970s gathered for a tailgate outside Delaware Stadium before the Blue Hens' successful (26-3) matchup with South Dakota State on Sept. 11. Organized by Robert Tkachick, BE '78, of Newark, Del., the group also included spouses, many of them UD graduates as well. From left are Bob Tkachick, Dale Olm '68, Anne Thompson '68, Mark Harrison '83, and Tom Runnels '70.