From 'Tiger Beat' to movie role as teen bully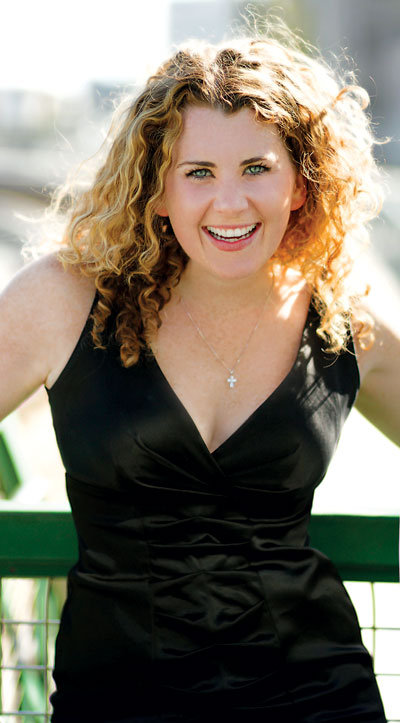 ALUMNI | A 2005 communication graduate has made her appearance on the big screen in the comedic basketball film
The Winning Season, which hit theaters in New York and Los Angeles over Labor Day weekend.
Colleen Broomall graduated with plans for a journalism career but has since switched to show business, landing a speaking role in her first audition.
Directed by Jim Strouse and starring Sam Rockwell, Emma Roberts and Rob Corddry, The Winning Season tells the story of an adult loner who gets another chance with the opportunity to coach the local high school's girls basketball team.
"In the movie I basically play a teen bully," Broomall says. "In every sports movie, the team always plays an opposing team that plays dirty—I am the ringleader of that team."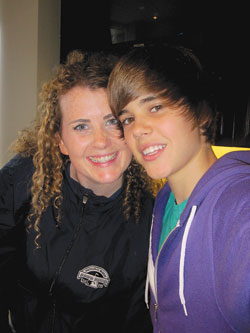 Photo by Scott Appel
She also is featured in the trailer, in a scene where she takes a punch. "I heard your coach was a dishwasher," she says to a player on the other team, who returns the comment with a fist to Broomall's face.
Although the movie is her debut in a feature film, Broomall's role in The Winning Season was not her first experience before the camera. She played Meg Ryan's daughter in the soap opera As The World Turns from the time she was 2 months to 7 years old. She also modeled and was cast in commercials for brands including Kix and Clorox.
"I remember it was very time-consuming," she says. "My mom pulled me out of the business in grammar school so that she could go back to her own career and I could live a relatively normal life."
At UD, Broomall was a sister of Chi Omega and a member of Omicron Delta Kappa. She also kept a serious job throughout most of her college career. An internship with M Magazine turned into a job opportunity with Tiger Beat and BOP as an East Coast correspondent, in which she interviewed celebrities in addition to attending classes.
"I lived the regular college experience, but I also had this sort of secret life," she says. "Those years were a lot of fun because I was still involved with show business, which I loved, but I also had a normal, amazing, incredible experience going to school at UD."
After graduation, Broomall moved to Los Angeles and worked as a full-time editor at Tiger Beat and BOP. But after her brother's death in 2007, she moved back to New Jersey to be with her family, and she decided to pick up acting again.
"I think I always wanted to get back into it, but after he passed away, I kind of felt like life is short—why not go for it?" she says.
The Winning Season was filmed in October 2008 and premiered at the Sundance Film Festival in 2009. Lionsgate later purchased the rights to the independent film. Broomall recently moved back to Los Angeles to continue her pursuit of an acting career.
Once the movie opened in theatres, Broomall says she became "more secure and confident about taking acting more seriously. Now that all of this is happening, it's shown me anything is possible."
Article by Katie Speace, AS '11