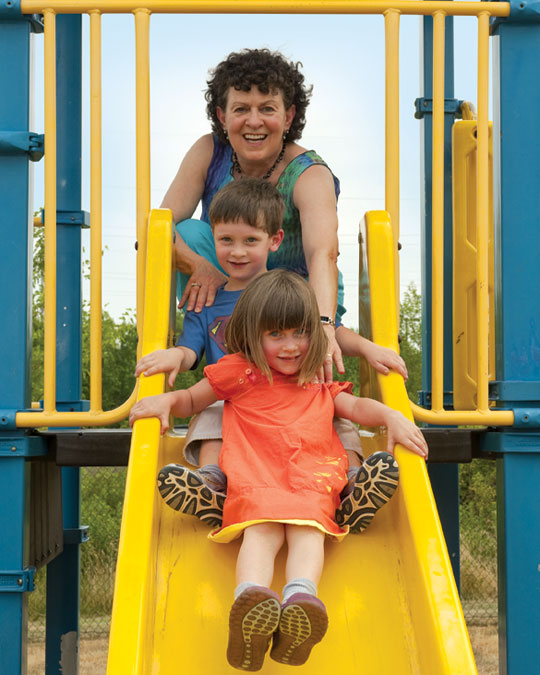 Kathy F. Atkinson
Learning? It's child's play
Top 10 ways you can help your children learn through play
10Children need to draw, scribble and scrawl to understand how we can represent ideas in writing and pictures. Sidewalk chalk will let their imaginations run wild and keep them busy for hours. Ask them to describe what they have created, and you develop language skills too.
9Young children love the power of a flashlight. Buy one designated for your child and have them lead YOU around the neighborhood at night looking at bugs in the cracks in the sidewalk, finding animals in trees and reading house numbers. Kids love to be in charge of the adults and without even realizing it, they are learning about nature and numbers.
8Build with your children using blocks, or help them solve jigsaw puzzles. Without thinking about it, you will use lots of spatial language like "under" and "next to" that your child needs to hear for success in the STEM disciplines of science, technology, engineering and math.
7Go to the Delaware Children's Museum in Wilmington and play alongside your children. Don't forget to discuss your visit later! Research shows that kids retain more information about what they learned when you discuss it with them.
6Bake cookies or a cake and ask your child to help you retrieve the ingredients, read the recipe with you (if they can read) and measure out the ingredients. Language, communication and math skills are built in just this way.
5Don't underestimate old favorites like "Simon Says" and "Red Light, Green Light." These games build self-control and "executive function" skills. Children have to learn how to inhibit their behavior and follow directions.
4Play with story stems using the computer. Start a story such as: "Once upon a time, there lived a giant spider who…" and have everyone in the room add another line to it and then read it out loud when finished. Developing language skills and creativity was never more fun!
3Go to the doctor's office and bring a crayon. Trace your children's bodies on the white paper that covers the examining table. Bring the paper home and have them fill in the figure, including (if they wish) drawings of some of their organs. Have them put a face on the figure, doing a self-portrait. Biology is always more fun when it's about me.
2Act out! Assemble some old and interesting dress-up clothes—hats, capes, mustaches and mock swords are always favorites. Invite some other kids over. You'll be surprised that even older children will want to create scenarios that they can act out together for your benefit. This builds collaboration, communication, creativity and confidence.
1Want even more ideas? Bring your children to the ULTIMATE BLOCK PARTY on Oct. 3 in New York City's Central Park. Sponsored by private corporations, children's museums and government agencies, it is designed to share the importance of playful learning with families through fun events and activities. See www.ultimateblockparty.com for details.