Lab Preschool bridges generations with quality programs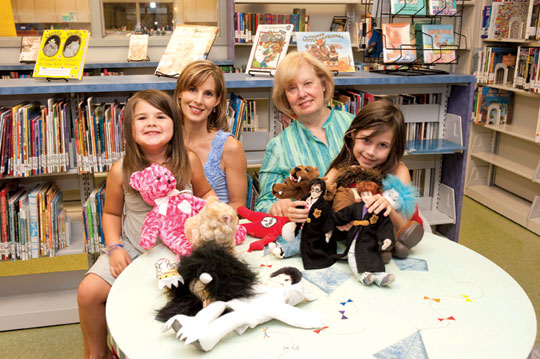 Photo by Kathy F. Atkinson
ON THE GREEN | When John, BE '94, and Dorothea Anderson Ormsby, EP '94, took their daughter, Jordan, to preschool for her first day in 2007, she became the third generation of the family to attend the University's Laboratory Preschool.
Attendees of the preschool have included Dorothea and her brother, Lee Anderson Jr., in the 1970s; their mother, Mary Donoho Anderson, EP '67, '69M, in the late 1940s; and Jordan and her younger sister, Olivia, who began attending in 2008.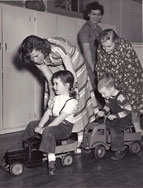 The preschool, which is a part of the Department of Human Development and Family Studies in the College of Education and Human Development, is celebrating its 75th anniversary this year. According to Peg Bradley, the school's director, that makes the Lab Preschool one of the oldest continuously operating university-based preschools in the nation.
Each generation of the Anderson-Ormsby family has attended the Lab Preschool in a different location on campus—Mary in Robinson Hall, Dorothea and Lee in Alison Hall, and Olivia in the school's new home, which opened last fall at the college's Children's Campus on Wyoming Road.
What keeps the family coming back, Dorothea says, is the way the preschool staff members dedicate their lives to providing a positive learning environment.
"The Laboratory Preschool is a phenomenal program, and the staff there does such great work with the kids," she says. "Who better to educate your children than educators who stay abreast of the newest research in education techniques and implement them in their programs?"
After Jordan was born in 2003, Dorothea says she knew exactly what preschool she wanted for her. She placed her daughter on a four-year waiting list so she could attend the Laboratory Preschool in 2007. The wait was well worth it, she says.
"My mother and I feel very lucky that Jordan and Olivia have been able to be a part of the Laboratory Preschool program," she says. "Hopefully, they will continue this tradition with their kids."
Article by Jon Bleiweis, AS '10