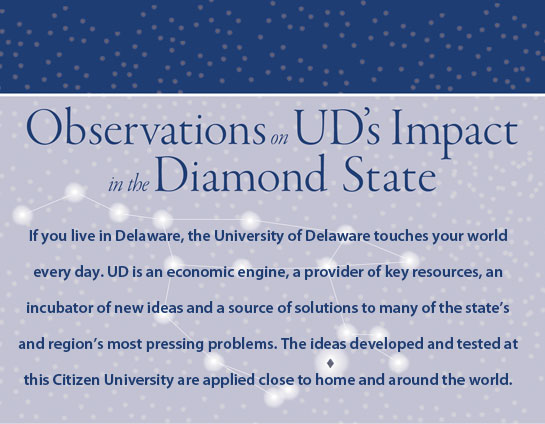 Points of Light for Delaware
The University of Delaware is one of the state's largest employers. Nearly 3,900 faculty and staff earn $334 million each year in wages. That money is pumped back into communities throughout the state for housing, food and other living expenses.
The regional economy—comprising Delaware, Maryland, New Jersey and Pennsylvania—receives roughly $608 million in added income each year through UD's payroll and its spending for supplies and services. Some $64 million is generated by the off-campus expenditures of students alone, with another $18 million contributed by visitors to UD.
Every year, more than 700,000 people come to the UD campus for athletic, social, community and cultural events. And each year, 26,000 prospective students visit the University (called an East Coast Classic) accompanied by two guests apiece.
Altogether, the University, its employees, students, alumni and visitors spend about $2.9 billion annually just in Delaware. This yearly expenditure supports nearly 26,500 jobs, or roughly 5 percent of all the jobs in Delaware.
The University is also working to bring more high-paying jobs to the Diamond State. UD has won nearly $60 million in federal stimulus funds, which should produce an economic boost of nearly double that amount in Delaware and stimulate the employment of more than 1,0t00 Delawareans in 2010.
In November 2009, UD purchased 272 acres of land formerly occupied by the Chrysler Newark Assembly Plant. Redevelopment of this property into a major science and technology campus will bring significant dollars and thousands of jobs to Delaware.
From cradle to grave, the University of Delaware is actively involved in educating the state's citizens. The lead principle in UD's strategic plan, the Path to Prominence™, is "Delaware First," an assurance that every Delawarean will have access to a top-quality education.
UD is the flagship of higher education in Delaware, and so—while two-thirds of the University's students come from outside the state—Delaware residents come first. Through UD's Commitment to Delawareans, the University promises in-state students admission to UD if they take certain courses in high school and earn qualifying grades in them.
In 2010, nearly 90 percent of the Delaware students who applied to the University were admitted— 66 percent to the Newark campus and 23 percent to the Associate in Arts program, which can lead directly to a four-year degree. In contrast, only 49 percent of out-of-state applicants, on average, are admitted each year to UD.
State appropriations cover much of the difference between the price of tuition and fees for in-state students and the price for out-of-state students. The University uses the state's investment to subsidize education costs for in-state students and to build and maintain UD's physical plant.
The University supports Discovery Learning beyond a bachelor's degree, through its 140 graduate degree programs, professional and continuing education programs, extensive outreach efforts, distance learning programs and even learning in retirement through UD's Osher Lifelong Learning Institutes in Wilmington, Dover and Lewes.
A Galaxy of Opportunities
From Boston to Silicon Valley to North Carolina's Research Triangle, every hotbed of technological innovation in the country is close to at least one great university. If Delaware is to be a center for technology, UD needs to lead the way as a Talent Magnet. Talent goes where talent is.
Whether it's the most efficient solar cells yet produced, an electric car that can store electricity and return it to the grid, a device that enables mobility in young children with physical disabilities, a fluid that hardens to an impenetrable solid on impact, a new vaccine against avian flu, a portable filtration device that can remove even tiny viruses from drinking water or a technology that enables people to operate their cell phones and computers with the touch of a finger, UD represents Idea Leadership.
The University of Delaware's research enterprise just keeps growing. UD is ranked among the nation's top 100 universities in federal obligations for science and engineering research—and is among a minority of institutions that made the list without a medical school. Over the past decade, the University has doubled its competitive grant and contract funding to more than $163 million.
But getting good ideas into the marketplace requires another set of skills. That's why UD's Office of Economic Innovation and Partnerships was formed—to serve as a gateway between UD researchers with good ideas and those who can transform those ideas into commercial products and processes: financiers, venture capitalists, manufacturers and marketers.
Education increases lifetime income. According to the Bureau of Economic Development, a college graduate's median annual salary is 64 percent higher than a high school graduate's. For the average UD bachelor's degree holder, this translates to an extra $830,000 earned over his or her working career. Smart Money indeed.
A graduate degree pays off even more. An individual with a master's degree or Ph.D earns 112 percent more, on average, than someone with only a high school diploma. For UD's advanced degree recipients, that's a cool $1.5 million more than a high school graduate over a lifetime.
With 146,000 living UD alumni and nearly 5,000 joining their ranks every year, the economic potential of our graduates is significant. About 41,000 Blue Hens live in Delaware, and thousands more live and work in neighboring states. The accumulated contributions of these alumni to the regional, four-state economy amount to $1.5 billion in added income each year.
A Stellar Investment
The University of Delaware also yields a great return on investment. The state of Delaware allocated $126.7 million to UD last year, and every state dollar invested in UD returns $9.64 to Delaware's economy.
Through recession and recovery, the Diamond State hasn't lost its luster. Delaware shines—brighter than ever before.
If you live in Delaware, the University of Delaware touches your world every day.
UD is an economic engine, a provider of key resources, an incubator of new ideas and a source of solutions to many of the state's and region's most pressing problems. The ideas developed and tested at this Citizen University are applied close to home and around the world.