Women's post-season tips off at home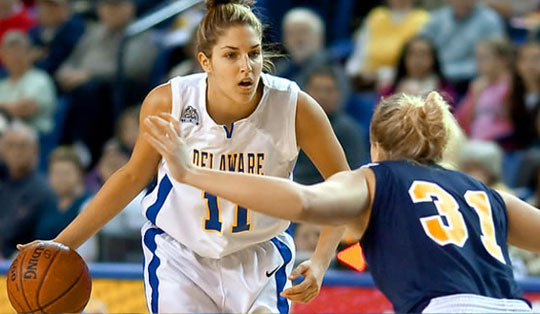 Photo by Mark Campbell
SPORTS | The Blue Hen women's basketball team (with a 21-11 record) hosted the University of Richmond Spiders (19-12) in the first round of the Women's National Invitational Tournament (WNIT) on March 18 at the Bob Carpenter Center.
Delaware's season came to a disappointing end with that game, however, as the Blue Hens fell behind by 18 points at halftime and never caught up, ultimately losing in a 67-49 decision. Richmond advanced to the second round of the WNIT to play Syracuse. At press time for the UD Messenger, the tournament was continuing, with the championship game set for April 3.
With the WNIT loss, Delaware closed out the season 21-12, marking the team's eighth 20-win total in the last 11 seasons.
"We're obviously very excited to go into postseason play," UD Head Coach Tina Martin said when Delaware received its WNIT invitation. "This is a great opportunity for our young team to experience the postseason, and we're thrilled that we were awarded a home game."
Delaware was led throughout its season by Elena Delle Donne, the Colonial Athletic Association Player of the Year and Rookie of the Year. Delle Donne, the nation's second leading scorer, averaged 26.8 points and 9.0 rebounds per game during the season, while junior guard Tesia Harris added double-digit scoring with 12.6 points per contest. Sophomore guard Kayla Miller led the Hens at the point, dishing out a team-high 73 assists.
UD's run for the CAA championship came to an end in the semifinals March 13, as No. 1 seed and 17-time conference champion Old Dominion University topped the Blue Hens 50-49 in a game hosted by James Madison University.
For updates on women's basketball, visit www.bluehens.com.