Muir named to USA Basketball board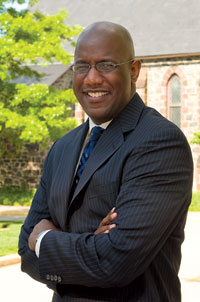 \
SPORTS | Bernard Muir, the University's director of athletics and recreation services, has been appointed by the National Collegiate Athletic Association to the USA Basketball Board of Directors.
The first UD athletics staff member to be named to the board, he will serve through 2012. He replaces former NCAA appointee Gene Smith, assistant vice president and director of athletics at Ohio State University, who stepped down.
"I'm excited and honored to be joining the board of directors of such a prestigious organization," Muir says. "I've certainly had a passion for the game of basketball my entire life, and I'm looking forward to serving with the other members of the USA Basketball board to help promote and advance the sport throughout our country and the world."
Currently in his first year as head of the Blue Hens athletics department, Muir served four years (2005-09) as the director of athletics at Georgetown University. Before that, he spent five years at the University of Notre Dame in various positions.
The Gainesville, Fla., native began his career in college athletics as a four-year letter winner on the men's basketball team at Brown University, graduating in 1990 with a bachelor's degree in organizational behavior and management. In 1992, he earned a master's degree in sports administration from Ohio University.
Based in Colorado, USA Basketball is a nonprofit organization and the national governing body for men's and women's basketball in the United States. It is responsible for the selection, training and fielding of U.S. teams for competitions sponsored by the International Basketball Federation (FIBA) as well as for some national competitions.
Visit www.bluehens.com for all your UD athletics news.