Eight outstanding athletes join Hall of Fame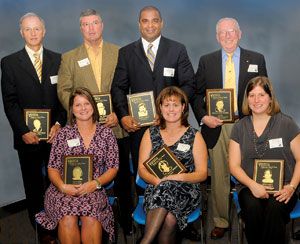 Duane Perry
SPORTS | The UD Athletics Hall of Fame has inducted its 13th class, featuring high-scoring All-Americans, former professional athletes, record-breakers and a longtime track and field coach.
The eight inductees, five men and three women representing 10 different Blue Hen sports programs, bring the total number of Hall of Fame members to 111. Two of the new members were inducted posthumously,
The 2009 inductees were honored in a private ceremony and then were recognized on the field at halftime of the Nov. 7 Delaware-Hofstra football game at Delaware Stadium. They are:
Mike Biggs, BE '71, the most prolific scorer in UD men's soccer history, could be counted on consistently to provide the Blue Hens with an important goal during his three-year varsity career in 1968-70. He later played with the Philadelphia Inter and with the Delaware Wings of the American Soccer League.
Jodi Byrd Hollamon, HS '99, one of the most decorated players in Blue Hen field hockey history, was a four-year starter in 1995-98 who led Delaware to an impressive run that included consistent national top-20 rankings, four winning seasons and three conference tournament appearances.
Patty Freeman O'Neill, HS '85, a dominating pitcher for the Blue Hens in 1982-85, hurled a gem almost every time she stepped into the circle during her four-year career. She led the Hens to a four-year record of 66-51 and set virtually every school pitching record during her career.
Beth Hatt Burkhardt, HS '97, a four-year standout midfielder, is the first Blue Hen women's soccer player to be inducted into the UD Athletics Hall of Fame. A scoring threat who was equally adept on defense, she led Delaware to a four-year record of 48-25-3 during the 1993-96 seasons.
Jim Sherman, AS '82, a slugging outfielder in 1979-82 for Hall of Fame coach Bob Hannah, later joined Hannah's staff and then succeeded him as UD head baseball coach, where he's now in his 10th season. After his outstanding player career for the Hens, he played five years in the Houston Astros' farm system.
Ken Steers, who died in 1986, played an integral role at the University for nearly 25 years as both head coach of the Blue Hen men's cross country and track and field teams and as chairman of the Department of Physical Education from 1945-69. He led the cross country squad (1946-65) and the outdoor track and field team (1946-60) to six undefeated seasons.
Ivory Sully, HS '79, an elusive running back for powerhouse Blue Hen football teams in 1976-78, followed a spectacular college career at UD with a solid nine-year tenure in the National Football League that included playing in Super Bowl XIX for the Los Angeles Rams. He finished his UD career ranked among the school's all-time leaders with 1,359 yards.
Ron Watson, EG '53, who died in 1987, was a standout in golf and track and field for the Blue Hens, played two seasons of basketball and was named the University's Outstanding Senior Male Athlete of the Year in 1953. He enjoyed a successful amateur golf career in Delaware after graduation and also was a standout table tennis player.
To read more about the University of Delaware Hall of Fame, including more details about the 2009 class and previous inductees, visit www.bluehens.com, and click on "Hall of Fame" in the list of topics on the left side of the page.
Visit www.bluehens.com for all your UD athletics news.