Field hockey wins conference championship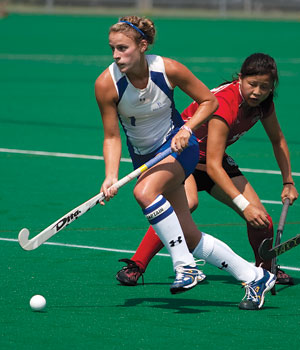 Mark Campbell
SPORTS | The UD field hockey team, completing an amazing turnaround from its previous season, won the Colonial Athletic Association 2009 championship in a Nov. 8 upset over top-seed Drexel.
The Blue Hens, ranked No. 16 entering the match, defeated No. 10-ranked Drexel 1-0, with Delaware's defense thwarting every Drexel attack. The CAA title followed a 3-15 season in 2008, giving UD an 11-win jump in one year that was the largest of any team in the country.
The team advanced to the NCAA Tournament in Charlottesville, Va., where the Hens fell 7-0 to Michigan State in the opening round Nov.14.
Head coach Carol Miller was named the Division I Coach of the Year for the season, while senior forward Casey Howard earned second-team All-American honors as selected by WomensFieldHockey.com.
Visit www.bluehens.com for all your UD athletics news.