Conservator works to save 'vanishing treasures'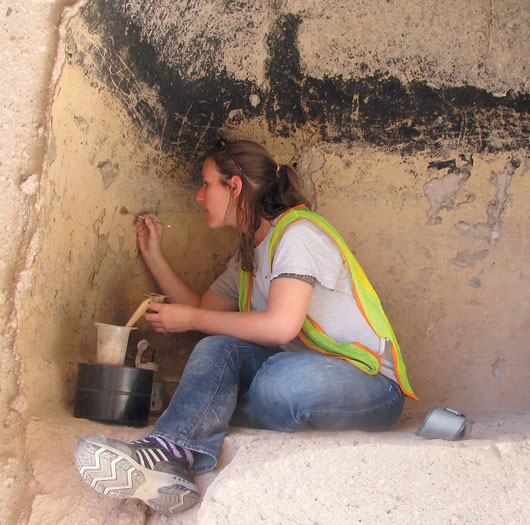 RESEARCH | Tourists visiting the ancient cliff dwellings at Bandelier National Monument in New Mexico are expected to take away lasting memories of the dramatic scenery and of the Pueblo culture, with its 800-year-old homes and sacred places carved from the rocks.
Unfortunately, says art conservation graduate student Beth Rydzewski, some visitors also leave something behind at Bandelier—graffiti they've scrawled or scratched onto the walls of the cliffs and inside the hollowed-out ancestral Pueblo dwellings called cavates.
Rydzewski, who is working in Santa Fe during her third and final year as a student in the Winterthur/University of Delaware Program in Art Conservation (WUDPAC), spent part of last summer helping to address the problems of graffiti and other vandalism at Bandelier. She joined other conservators in a project funded by the "Vanishing Treasures" program of the National Park Service that seeks to preserve some of the United States' most valuable landmarks and places that are in danger from natural and manmade damage.
"At Bandelier, this program targets the most visible places, where tourists are most likely to go," Rydzewski says. "It's taken years and years of hard work already to reduce the graffiti, and it will take many more years to remove it all. Some cavates have more graffiti than others, but the number of cavates that require attention is astounding."
The conservators use different types of fill material in different locations, each selected and blended to most closely match the color and texture of a particular cavate's walls. They use the filler—which might be a type of compressed volcanic ash known as tuff or a form of earthen plaster—to painstakingly fill in graffiti that has been scratched or carved into the rock.
One cavate on Bandelier's main tourist path has been reconstructed to provide visitors with an idea of how the space would have looked when it was in daily use, including ceilings and upper walls covered with soot from the dwelling's fires. Twice a year, conservators light a pine torch to deposit a new layer of soot on the walls and ceiling, covering any graffiti that has been added to the old surface.
"This is very satisfying when complete," says Rydzewski, who tried her hand at "re-sooting" during the summer. "Curious visitors are as much grateful for the treatment as they are horrified at the act of graffiti."
Rydzewski is spending the academic year working for the New Mexico Museum Resources Division, an agency that operates a conservation lab to work on damaged or deteriorating objects from various museums around the state. While she was working there during the summer, conservators from the graffiti-mitigation team invited her to accompany them.
"It's really wonderful experience, and I feel so lucky that everyone was so accommodating to an intern and that they included me," she says. "It was almost like a dream come true to be working outdoors in such a stunning place and to be taking part in something that's so important."
WUDPAC is a three-year program in which students earn a master's degree in art conservation and a certificate in conservation. The third year consists of an internship, working with conservation professionals at host institutions or independent laboratories.
Article by Ann Manser, AS '73