Key to weight loss? Retrain the brain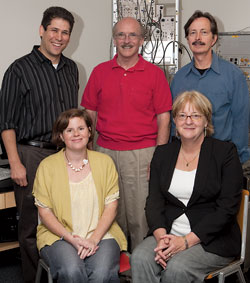 Ambre Alexander
RESEARCH | With more than 60 percent of adults and 20 percent of children in the United States considered overweight or obese, much research has focused on this condition that threatens not only physical health but also emotional well-being.
"A lot of effort has been directed at the problem of obesity," says Steven Most, assistant professor of psychology. "There's a great deal of information available about eating right and exercising, but that's only half the battle. Access to healthy alternatives works only as far as individuals actively choose to pursue them."
In a new approach to the multifaceted and seemingly intractable problem, Most is partnering with fellow UD psychology Profs. James Hoffman and Robert Simons and with Dr. Sandra Hassink, director of the Pediatric Weight Management Clinic at A.I. duPont Hospital for Children, and Meredith Lutz Stehl, a clinical psychologist at the hospital.
The team's collaborative research will explore the response of obese people to food stimuli, with the hope that the results will help in designing and implementing effective interventions.
Questions the researchers are investigating include: Do individuals struggling with weight management exhibit marked impulsiveness or difficulties involving attention shifting, working memory and behavior inhibition? Are weight management problems accompanied by exaggerated responses to food cues and/or by a relative inability to regulate such responses? Do common food cues, such as pleasant aromas, have a negative impact on cognitive control functions?
Introducing direct measures of attention and response to food stimuli is a novel way to approach an individual's decision-making around food choices, according to Simons. While issues like impulsiveness and attentional control have been investigated using paper-and-pencil measures, he says, these self-reports are subjective and don't allow the various components of complex concepts like "attention" to be isolated.
Instead, the scientists plan to combine behavioral testing with the use of direct measures known as event-related brain potentials, comparing overweight adolescents undergoing treatment at the clinic with a control group. They also will assess changes in the obese participants over time as they progress through the treatment program.
In one test, for example, subjects are shown a collection of pictures and asked to locate the one depicting a particular item, say a chair, as quickly as possible. The question here is whether the presence of enticing food pictures in the mix will slow down the ability of the weight-management subjects to find the designated item.
"This study represents an exciting new area to explore," Hassink says. "The more we understand the process of decision-making about food choices, the more effective we will be at helping our patients."
Most and Hoffman are both cognitive psychologists, and Simons' previous work has focused primarily on anxiety disorders, so working in the area of obesity is new for all three. "We're just at the beginning of trying to understand these mechanisms," Hoffman says, "but I think there's evidence that disorders like this involve defects in basic cognitive functions."
If Hoffman is right, the research may lead to more effective weight loss programs for both children and adults.
"We already know that most cases of obesity result from people consuming too much food and getting too little exercise," Most says. "But if we want to change those behaviors, we have to figure out the neuro-cognitive mechanisms that are behind them so that we can retrain the brain."
Article by Diane Kukich, AS '73, '84M