Magnetic materials research attracts Alison award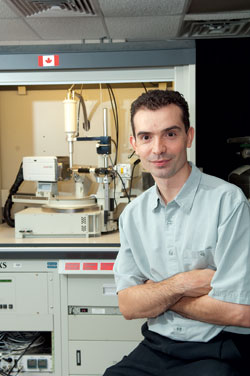 Kathy F. Atkinson
RESEARCH | Svilen Bobev, assistant professor of chemistry and biochemistry, has been honored with the 2009 Young Scholars Award from the University's Francis Alison Society. The highly competitive award is given to a tenure-track assistant professor who has demonstrated outstanding research and academic teaching excellence.
Bobev "is an enormously talented and extraordinarily productive solid-state chemist as well as an inspiring teacher," says Klaus Theopold, chairperson of the Department of Chemistry and Biochemistry. "His research area represents a new facet in this department's academic offering and is attracting new and talented students to our program. He is prolific, and his work is fundamentally interesting and has potential for practical applications." Bobev says that although the award is a personal recognition, "It would not have been possible without the hard work and dedication of my students and postdocs."
His research group, which has included four graduate students, 13 undergraduates and three post-doctoral and visiting scholars, has been highly productive, publishing 53 papers describing the research he conducted during his five years at UD.
Bobev's research focuses on new magnetic materials based on the rare-earth elements and the heavier carbon analogues, such as silicon and tin. He studies the relationship between the structure and properties of these new compounds, which should have important scientific and industrial application such as catalysts and lasers, as well as in magnetic bearings and switches.
Bobev has been awarded substantial grants from the National Science Foundation, including the foundation's prestigious Faculty Early Career Development Award, and from the Department of Energy and the American Chemical Society. He has been selected for prestigious prizes by the American Crystallographic Association and the American Chemical Society.