Helping farmers protect the Chesapeake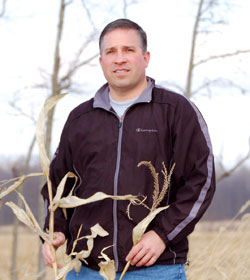 Danielle Quigley
RESEARCH | Greg Binford spends his days in laboratories and cornfields miles from the Chesapeake Bay, but his research has a direct impact on the water quality of this estuary, which is home to more than 3,600 species of plants and animals and more than 16.6 million people.
A plant and soil science specialist for UD Cooperative Extension and an associate professor of plant and soil sciences, Binford works to optimize crop production for farmers while minimizing the impact on the environment of the fertilizer and manure nutrients essential for crop growth.
With the support of a $550,000 grant from the U.S. Fish and Wildlife Service, he is seeking to develop a nutrient management system that will result in less nitrogen leaving cornfields and entering the Chesapeake Bay and also in improved overall profitability for growers.
The key, Binford says, is to revise the nutrient management plans currently used by growers so that there is a feedback mechanism in place that allows for an evaluation at the end of the season.
"Nitrogen management is one of the greatest challenges during the production of corn," he says. "The challenge is in determining the difference between the optimal rate of nitrogen and any rate above this optimal."
He notes that nitrogen can be lost from soil fairly easily, and farmers can unknowingly apply too much nitrogen without causing any damage to their crops. On the flip side, he says, applying too little nitrogen can be very detrimental to yields, so growers are reluctant to fine-tune their management program unless they can quantitatively evaluate it.
And that's where Binford's research study comes in. The project's ultimate goal is to develop a performance-based nutrient management system. The study uses 300 fields as on-farm research plots and involves the cooperation of more than 75 farmers from Kent and Sussex counties in Delaware as well as areas of Maryland.
At the end of the crop season late last summer, a team of Extension associates and private consultants working under Binford's direction fanned out into all 300 fields to utilize an innovative test based on the concentration of nitrate in the lower part of the cornstalk. Concentrations above a recommended value indicate that excessive nitrogen was applied during the growing season.
Binford developed this specialized test in the early 1990s, and it has since been widely evaluated in other research projects. Although the test method is popular with researchers, it hasn't been used much in production agriculture.
Last summer marked the first growing season for the three-year project. Although Binford already has obtained preliminary results, he doesn't want to make recommendations based on a single year's findings.
"Because it's a biological system, weather and management will greatly affect the amount of nitrogen available to the crop," he says. "Therefore, it's important that drastic changes not be made in nitrogen management after only one or two years of collecting stalk nitrate results."
Tom Sims, T. A. Baker Professor of Soil and Environmental Chemistry and deputy dean of UD's College of Agriculture and Natural Resources, says the research makes a valuable contribution.
"His studies represent the application of our understanding of plant biology to the practical problems farmers face in managing nitrogen in an environmentally sustainable manner," Sims says. "Greg is a national leader in nutrient management, and I have no doubt the results of his latest research grant will be adopted and benefit agriculture while protecting the environment."
Article by Margo McDonough, AS '86, '95M