Athletes, students form close connections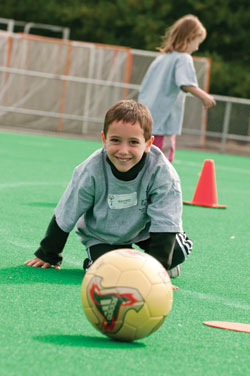 Photo by Evan Krape
ON THE GREEN | In Delaware, when Special Olympics athletes and volunteers get together, they often do so at the University, where the organization is one of only three such chapters in the United States to be located on the campus of an educational institution.
At UD, this proximity has allowed for a close relationship between Special Olympics Delaware (SODE) and University students and faculty, who have helped the program grow over the years. In addition, participants say, the relationship has benefited the UD community as well.
Today, about 3,300 athletes participate in SODE, and more than 500 UD students are involved in the organization in some way.
"It's changing perceptions," says Jon Buzby, HS '89, '91M, SODE's director of media relations. "There's no better way to change perceptions than to interact."
Student involvement began some 35 years ago when Keith Handling, now associate professor of health, nutrition and exercise sciences, made involvement with SODE part of the adaptive physical education classes he taught at the University. The class is where Buzby began his own work with the program 20 years ago.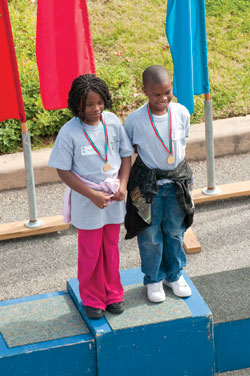 Photo by Evan Krape
"Students needed hands-on, real-life clinical experience," Handling said. "I contacted SODE to get the students involved."
His students took part in a variety of events throughout the years, and then UD coaches began to volunteer as well. The volleyball, softball and swimming coaches have recently put on clinics for SODE athletes, and Handling calls head football coach K.C. Keeler "an active recruiter" of volunteers among his players. Keeler himself, who earned his bachelor's degree at UD in 1981, took Handling's class as an undergraduate.
In the fall, a soccer skills competition brought about 350 SODE athletes from 15 different schools to campus, where more than 100 UD volunteers—students taking adaptive physical education as well as student athletes and others—worked with them as they competed in such events as dribbling, passing and shooting. Athletic Director Bernard Muir attended the ceremony and spoke to the athletes about their accomplishments.
"I think it's a wonderful event," Ann Grunert, executive director of SODE, said at the competition. "Having student involvement has been a benefit for our outreach as well as the students. They bring such a wonderful energy and enthusiasm and a fresh perspective."
Handling's students said they were thrilled to have the opportunity to work at the event.
"It feels really good to help out and lend a hand to a prestigious event," said Evan Jay, a sophomore athletic training major. "I do it every year. I got started through my major, but I began to bring my fraternity to volunteer as well."
Handling stressed the importance of student involvement in working toward a positive future. "The most important benefit is social, the friendships and relationships students make with their peers," he said. "Then, when you become an employer someday, you hire a disabled person because you know they can do it."
Grunert also looks at the close ties with the University as an agent of change. "Programs like this break those barriers down," she says.
Article by Erica Cohen, AS '11