Tibetan Buddhism scholar honored in Beijing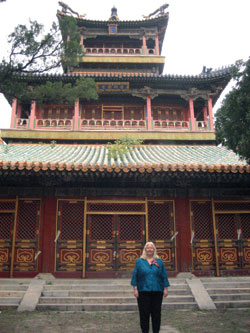 ON THE GREEN | In an inner courtyard of the Forbidden City in Beijing, Chandra Reedy was one of just nine foreign scholars honored last fall for their accomplishments and stature in the field of Tibetan Buddhist studies.
The occasion was the opening of the Palace Museum Research Center for Tibetan Buddhist Heritage, and Reedy was presented an appointment as a permanent Guest Fellow of the new center. She is a professor of urban affairs and public policy and of art history at UD, whose primary appointment is in the Center for Historic Architecture and Design (CHAD).
"I am deeply honored by this recognition and humbled by my inclusion with so many outstanding Tibetologists," she said at the October ceremony. "I look forward to many years of continuing collaboration with the Palace Museum and its new Tibetan research center."
The Forbidden City was the imperial palace of the Ming and Qing dynasties. There was strong interest in Tibetan Buddhism by the court during these periods and constant contact and exchanges with the major monasteries and religious teachers of Tibet. As a result, dozens of temples in the Forbidden City are dedicated to Tibetan Buddhism, and the Palace Museum houses more than 20,000 works of Tibetan art.
The Palace Museum established the research center to promote national and international cooperation and scholarly communication for the study of its Tibetan holdings and related art and material culture. A cooperative documentation and preservation fieldwork project with the University involves Reedy and a team of faculty and students from CHAD, a Palace Museum team and a team from the Sichuan Research Institute for Archaeology.