Actors take on new role as patients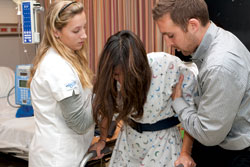 Photo by Ambre Alexander
ON THE GREEN | One of the newest collaborative efforts on campus brings together strange bedfellows—the departments of Theatre and Physical Therapy and the School of Nursing.
Undergraduate theatre students are becoming what's called standardized patients, healthy lay people who are trained to portray a patient with a particular condition.
"We typically use mannequins for simulation," says Amy Cowperthwait, a School of Nursing laboratory coordinator, "but those mannequins are not able to communicate or portray the verbal or neurologic status of a patient."
Standardized patients are trained not just to present the health history of a patient but also to demonstrate the body language, emotions, personality and relevant physical findings. The realistic interactions provide student healthcare workers with real-time feedback in an environment free of consequences.
"As much as we can practice on each other, nobody can do what they did, nobody can pretend like that," Meredith Link, a physical therapy graduate student, says. She was part of a group of physical therapy and nursing students who recently tried out their skills on the standardized patients.
The theatre students portrayed patients with head or spinal cord injuries. Part of their training involved observing actual patients at the University's Neurologic and Older Adult Physical Therapy Clinic on campus and at nearby hospitals.
"This is an opportunity to study the real patients over a period of time and then enact it in a real situation, not on the stage, with real people," Allan Carlsen, a supplemental faculty member in the theatre department, says. "The actors have the challenge of maintaining the character and the integrity of the role that they're playing."
The standardized patient model is used by medical schools nationwide, but rarely in undergraduate programs and almost never with the help of a college's theatre department. The collaboration is one of the first of its kind integrating departments whose talents are valuable to one another but that rarely cross paths.
At the same time, the UD students and faculty involved say they believe the experience will propel their skills forward, resulting in better performances both on and off the stage.
Article by Andrea Boyle, AS '02
Nursing program cited for innovation
The University's undergraduate nursing curriculum, which concentrates students' clinical experiences into an intensive senior year, has been recognized by the National League for Nursing as one of the most innovative in the nation.
The professional association selected UD's School of Nursing among 15 undergraduate programs across the country to highlight for offering innovative, creative and effective methods of educating future nurses.
UD's curriculum was revamped in 2005 to delay much of the students' direct care of patients until their final year of school. "Our curriculum ensures that our students first have the knowledge, that they have all the skills under their belts, and then they're allowed the privilege of actually caring for patients," says Judy Herrman, associate professor of nursing and coordinator of undergraduate clinical experiences.