A milestone in funding for science, engineering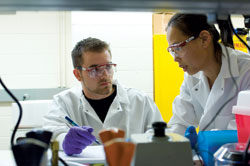 ON THE GREEN | The University now ranks in the top 100 universities in federal obligations for science and engineering in the latest annual funding report issued by the National Science Foundation.
The report, Federal Science and Engineering Support to Universities, Colleges, and Nonprofit Institutions: FY 2007, is based on statistical data from the 19 federal agencies that account for virtually all support for science and engineering research and development at educational institutions. The data cover the period from Oct. 1, 2006, through Sept. 30, 2007.
The University is ranked 99th in the report, successfully competing for $82.9 million in federal funds for science and engineering projects in fiscal year 2007. The institution ranking first is Johns Hopkins University, and 100th is Florida State University.
UD is among the minority of institutions in the top 100 without a medical school.
The report includes annual data for the 2000 through 2007 fiscal years. UD has seen a 60 percent increase in federal dollars garnered for research and development since fiscal year 2000 data, achieving an average annual growth rate of 7.5 percent.
"The University of Delaware has steadily closed the gap with institutions traditionally on the top-100 list in research and development funding over the last decade," says Mark Barteau, senior vice provost for research and strategic initiatives at UD. The ranking, he says, points to the "excellence and hard work" of University faculty. "High-caliber research is a major strength of UD and an engine that drives innovation," Barteau says. "Basic and applied research yields new discoveries and societal benefits, including economic development, but even more important, it is central to the education of our students at all levels."