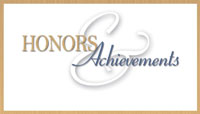 Chrystalla Mouza, associate professor of education, received the Association of Teacher Educators' 2010 Distinguished Research in Teacher Education award, which is designed to honor the highest-quality research in the field of education across the country, for a paper focusing on research-based professional development.
Thomas Vermeer, associate professor of accounting and management information systems in the Lerner College of Business and Economics, has received the prestigious 2009 Outstanding Research Paper Award from the American Accounting Association's government and nonprofit section.
Dov Leshchinsky, professor of civil and environmental engineering, has received the American Society of Civil Engineers' 2010 Martin S. Kapp Foundation Engineering Award, in recognition of his "innovative contribution to the unified method of design and analysis of earth retaining structures and slopes as well as the implementation of such technology through computer software and continuing education."
Meredith K. Ray, assistant professor of Italian, was awarded a National Endowment for the Humanities fellowship to complete her newest book, Prescriptions for Women: Alchemy, Medicine and the Renaissance Debate Over Women. The grant also will help fund her archival research in Italy and the U.S., where she will visit rare book collections to examine Renaissance handbooks and manuals devoted to alchemy, medicine and cosmetics, known as "books of secrets."
Michael L. Vaughan, senior assistant dean in the College of Engineering, has been elected interim board president of the National GEM Consortium and also serves as treasurer of the organization, which provides a connection and partnership among a national network of corporations, universities, research centers and government laboratories to promote the participation of underrepresented groups in postgraduate science and engineering education and the technical workforce.
Kate Scantlebury, professor of chemistry and secondary science education coordinator, and Dion Vlachos, Elizabeth Inez Kelley Professor of Chemical Engineering, were named fellows of the American Association for the Advancement of Science, Scantlebury for her distinguished contributions to science education and Vlachos for his outstanding work on multiscale modeling. Scantlebury also has been selected to receive the Outstanding Mentor Award by the Association for Science Teacher Education.
Michael Middaugh, associate provost for institutional effectiveness, has been elected chairperson of the Middle States Commission on Higher Education, which is responsible for the accreditation of more than 500 institutions of higher education from community colleges to research universities in the mid-Atlantic region and a number of institutions in Europe, the Middle East and other areas of the world.
Marsha Dickson, professor and chairperson of the Department of Fashion and Apparel Studies, was selected to receive the Apparel Magazine All Star Award by the International Textile and Apparel Association for her contributions to education in the apparel industry.
Dimitrios Skordos, a doctoral candidate in linguistics, won the Jean Berko-Gleason Award, given annually at the Boston University Conference on Language Development to the best paper with a student as a first author, for a paper describing his work on how children learning different languages acquire the meaning of verbs.
Frank Murray, H. Rodney Sharp Professor in the School of Education and the Department of Psychology, was named a laureate member of Kappa Delta Pi, an international honor society in education. The Laureate Chapter, limited to 60 living members, has included Albert Einstein and George Washington Carver.
Victor Klemas, professor emeritus of marine studies, who has been active in helping Lithuania's Klaipeda University develop advanced coastal oceanography programs, was awarded the Science Prize of the Republic of Lithuania in recognition of his lifetime achievements in applying remote sensing and other advanced techniques to study coastal ecosystems.
Cecil Dybowski, professor of chemistry and biochemistry, received the 2010 Eastern Analytical Symposium Award for Outstanding Achievements in Magnetic Resonance in conjunction with a program that included a session honoring him. He also received the Gold Medal Award from the Society for Applied Spectroscopy's New York section.