Interns take a hands-on look at the past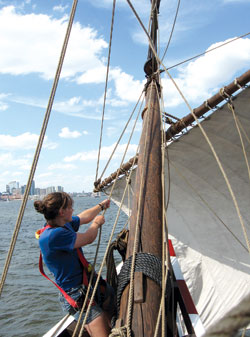 ON THE GREEN | Imagine serving as a bosun's mate sailing aboard explorer Henry Hudson's vessel, Half Moon. Or being in the shoes of A.J. Hamilton, a private in the Union Army, as he guarded Confederate prisoners at Fort Delaware during the Civil War.
These are among the intriguing scenarios that brought the past to life for University students engaged in recent history internships.
Ironically, Rachel Laufer, AS '09, who graduated with a degree in history last May, says she hated the subject while she was growing up. But her experiences sailing aboard the Half Moon, a full-scale, operating replica of Hudson's vessel from 1609, taught her to love the field, she says, and now she enjoys sharing her knowledge of the past with others. A veteran volunteer aboard the vessel, her most recent internship as a bosun's mate concluded in late November, and now she is planning to attend graduate school in history.
"Today, the full-sized replica of the Half Moon is a floating museum and a sailing classroom," Laufer says. "But it is also more. It is a unique, life-changing experience."
Another UD history student, junior Julie Powers, worked as an intern at the Lost Towns Project at Historic London Town and Gardens in Annapolis last summer. While there, she unearthed native ceramics, a stone pipe, a tiny colander and other fascinating artifacts at sites ranging from what may be the oldest wigwam in Maryland to a mansion built in the late 17th century.
"I love being an archaeologist because I enjoy being hands-on with history," Powers says. "When I find an artifact, I love knowing that I am the first person to hold this object in hundreds of years and now it is in my hands to take care of."
She describes the work as difficult but rewarding: "The days are long and hot, sometimes reaching over 100 degrees as we work screening, hauling dirt and shoveling. Archaeology is not easy work, but the experience of bringing history back to life is incomparable."
For senior history major Brett Truitt, an internship gave him the opportunity to portray Pvt. A.J. Hamilton during the Civil War, as the Union soldier guarded Confederate prisoners at Fort Delaware on Pea Patch Island off Delaware City. Truitt's preparations included poring over Hamilton's personal diaries and other materials and learning how to load and fire a 32-pound seacoast gun—an activity that he says he particularly enjoyed sharing with visitors to the fort.
"The procedure for loading and firing the artillery piece is derived straight from the artillery handbook issued for Union soldiers," Truitt says. Anne Boylan, professor of history and chair of undergraduate studies in the Department of History, says the three students took the initiative in obtaining their internships. "Their stories provide concrete examples of how internships offer hands-on experience with historical research and interpretation," she says.
While the students arranged their internships at various living history museums, Boylan notes that the history department also offers the E. Lyman Stewart Internship, which focuses exclusively on Delaware locations. It is funded through a $1.3 million bequest of the late Helen Black Stewart, AS '24, '40M, who taught American history at Wilmington High School for more than 20 years, and honors her late husband, E. Lyman Stewart, BE '23.
Article by Tracey Bryant