To our Editors
Editor: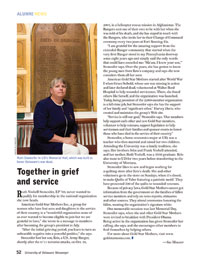 I was touched—no, grabbed--by the article about Ruth Stonesifer [national president of American Gold Star Mothers], "Together in Grief and Service," in the last Messenger. I would like to thank her for being such a wonderful role model of how to turn one's grief into something positive. I think that's the only way to come through something as devastating as the death of a son or daughter. I too have a son—an Army Ranger—in Afghanistan, and a daughter at West Point. I hope to remain a Blue Star Mom and never become a member of Ruth's Gold Star Moms. She has set the bar high with her grace and service to others. Ruth, you are my hero.
Madeline Reidinger Johnson,
HS '71
Editor:
I was disappointed in reading the fall issue of the University of Delaware Messenger to see the lack of coverage of the successes of the 2009 UD field hockey team. Emphasis in this magazine, as in many publications, seems to be on the "revenue-producing sports" such as football and basketball. It's a shame when the University's alumni magazine disregards the efforts of this fine group of women, in favor of another article about the (losing) football team and the basketball teams (whose seasons hadn't even begun).
Does the magazine acknowledge that the 2009 field hockey team won the 2009 CAA Championship, beating James Madison (the champion for the past several years) in the semi-finals and then Drexel in the finals? The final score was 1-0. In the NCAA finals, Delaware lost to No. 6 Michigan State in the first round, but the fact that Delaware was one of 16 teams nationwide to reach the NCAA tournament surely deserves mentioning and recognition.
We support the UD field hockey team through our contributions to the UD Athletic Fund. My daughters each played four years of varsity field hockey at Yale, and we are aware of the need for financial support for women's sports so that they remain competitive. All sports at UD, both revenue-producing and nonrevenue-producing—women's as well as men's—should receive equal coverage. Alumni of this University include female athletes and their parents; their support is vital to the continuing successes of all athletic teams.
Susan Arruda, EP '71M
Editor's note: The production time involved for this magazine often makes it difficult to include final season results for any sport on a timely basis. For a look at the highly successful 2009 field hockey team, and a sampling of other sports news, please see page 41. For complete and up-to-date coverage of UD athletics, we encourage readers and fans to visit www.bluehens.com.