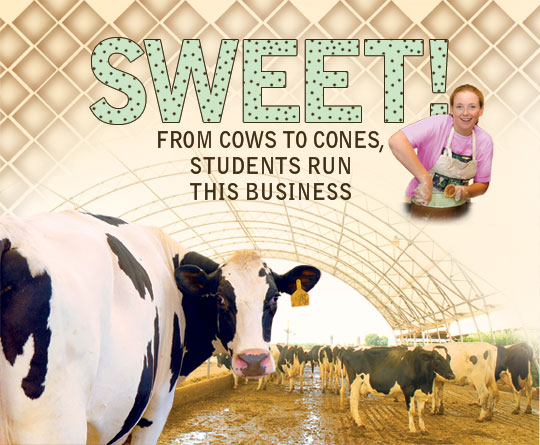 Next winter, Sarah Busker, AG '11, will graduate from the University with a pretty impressive job title under her belt—assistant manager of the UDairy Creamery.
Busker—who is juggling 16 academic credits, a part-time job, membership in two UD clubs and travel to Harrington, Del., to help out on her family's farm—and three other College of Agriculture and Natural Resources students are leading the charge to establish a creamery on campus.
While the idea of such an operation had arisen many times in the past, it wasn't until recently that everything fell into place.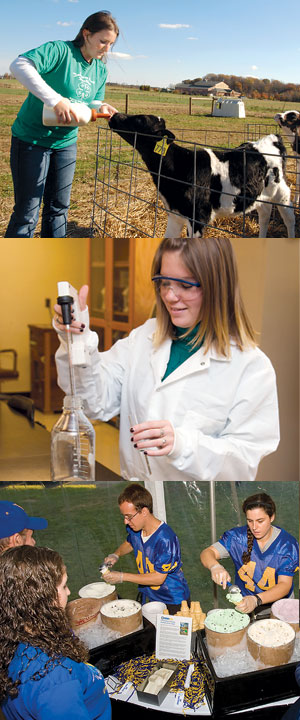 In the summer of 2008, a college creamery oversight committee was formed, with faculty, staff and student members. The committee visited local dairies for advice and developed a draft strategic marketing plan. That fall, for the first time, milk from UD's cows was shipped to Kilby Cream in Rising Sun, Md., and processed into ice cream, which was served at a number of college and University events.
"We wanted to provide our students with an opportunity to integrate science and technology into an entrepreneurial activity that shows the full value of today's agriculture," says Robin Morgan, dean of the college. "And we have the chance to learn right along with our students."
Unlike Busker, Connie Helstosky, AG '11, the creamery's sustainability and communications manager who grew up in a suburb of Boston, hadn't set foot on a dairy farm until her freshman year. Like the majority of students in the college today, she does not come from a farming background, but she knew that opportunities on the UD farm would give her hands-on experience working with animals.
When the creamery was looking for its first round of student interns, Helstosky says, she was excited to see how they could formulate a product on campus from the milk that the college's herd of dairy cows was already producing.
Since that first batch of ice cream was made in 2008, the creamery has operated without a physical location. Currently, milk from UD cows is shipped to Hy-Point Dairy in Wilmington, Del., which arranges for it to be processed into premium ice cream by Byrne Dairy in New York.
This spring, however, things are changing. The college will break ground on a creamery facility that will house an ice cream processing facility and a store for the sale of ice cream and other products from the UD farm. It will also serve as a classroom, laboratory and site for extension and outreach activities in the community.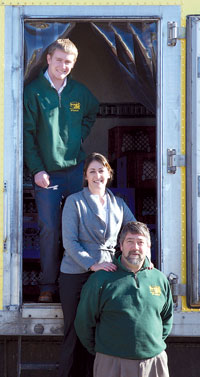 "Our students have been involved every step of the way, from the development of our business plan, through many UD-wide events, and now in the planning of our creamery ice cream processing facility and storefront," says Tom Sims, deputy dean of the college. "It's a unique opportunity for our students, both now and as future scientists and entrepreneurs."
Students and administrators are hoping that the creamery will mean more than a taste treat for the UD community.
"We want people to know that agriculture is much more than farming," Busker says. "It's business, marketing, food science and safety, animal science, sustainability, nutrition, economics, engineering and so much more." But does it hurt that the end product is delicious? "Not at all," she says with a smile.
Sims says that the creamery is truly "a student-centered enterprise, supported by faculty and alumni, that complements the core educational, research and extension missions of the college, with a direct link to the college's dairy farm."
The UD Dairy—part of the college's 350-acre complex on south campus—has a herd of about 100 Holstein cows. The dairy is managed and conducted similarly to other working dairy farms in the region, but with research and education in mind to serve faculty, staff and the surrounding agricultural community.
For more information, visit the UDairy Creamery online at www.ag.udel.edu/creamery.
Article by Katy O'Connell, AG '00
Photos by Danielle Quigley