Contest winners claim their prizes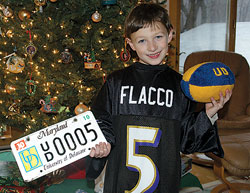 ALUMNI | On Jan. 15, the number of Blue Hens registered for UDconnection.com, the online community only for UD alumni, reached 15,000. Denise Schmalbach, AS '98, won a $50 prize pack from Alumni Relations as the landmark registrant.
Schmalbach, who registered for UDconnection.com to look up a classmate in the online directory, met her husband, Rob, BE '99, at UD, where she was a member of the women's lacrosse team, the manager of the field hockey team and a member of Phi Sigma Sigma.
"I can't even begin to number the experiences," she says of her years as a student. "All of our life revolves around the experiences we had at Delaware. I met my husband and about 15 of my lifelong friends there. One of those friends, Sean Hogan [BE '99], is the godfather of my son."
Also this winter, Alumni Relations and the UD Alumni Association partnered for two contests. In the first, Robert Green, BE '68, of Darien, Conn., was the winner of an iPod Touch. He was one of more than 300 Blue Hens who logged in throughout the month of December to update their profiles on UDconnection.com. Profiles include contact information, family members, UD club/sport participation and/or professional data.
Another contest, the UD License Plate Hunt, awarded prizes to all alumni who took a photo of themselves with their UD specialty license plate and sent it to Alumni Relations. Photos of the winners have been posted to the UD Alumni Relations online photo album at www.Flickr.com/UDalumni.
Winners were Robert Cooke, AS '72M, of Baltimore and the mother/daughter team of Jill Mullin, EP '76, of Haddonfield, N.J., and Erica Mullin, AS '03, of Pine Hill, N.J.
Other contests for alumni are planned, so keep checking UDconnection.com for contest news.