UDAA supports talented students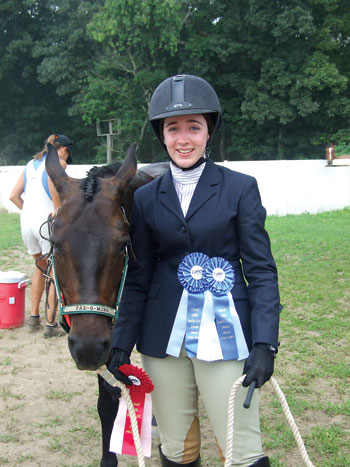 ALUMNI | The UD Alumni Association sponsors the Alumni Scholars, a merit-based scholarship program aimed at attracting academically talented students to the University. To date, the UDAA has contributed more than $1.28 million in the form of an endowment supporting this program.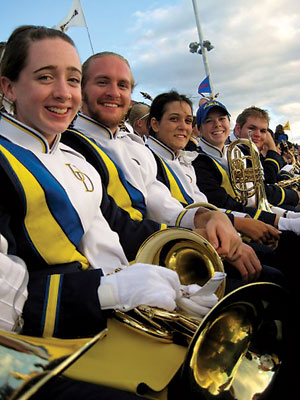 Alumni Scholars receive full tuition costs for each of their four years at the University. In addition, the students receive a book stipend each semester, a one-time grant of $3,000 to study abroad and, with a qualifying application, a one-time Alumni Enrichment Award grant of up to $2,000.
The scholars are selected from the pool of applicants for admission to the University, with no additional application or information required. Since the fall of 1999, 33 students have received the Alumni Scholars award, including one of this year's freshmen.
Meghan Fitzpatrick is a sophomore Alumni Scholar, majoring in pre-veterinary medicine with a minor in music. A native of Long Island, she says she was attracted to UD for its strong science program, proximity to her home and the experiences offered by the Alumni Scholars program.
"When I was making my college decision, I was disappointed by the unattainable price tag of many schools," she says. "Choosing a school is never an easy decision, but once I did decide to become a Blue Hen, I knew that it was the best choice for me. Thanks to generous grants, I get to have experiences that I never could have afforded at another college."
Fitzpatrick says that pursuing a major in science and a minor in the arts is a challenge, but one that she enjoys. The same is true for her extracurricular activities, where she plays the mellophone in the UD Marching Band and is a member of the UD Equestrian Team. She also is the treasurer of Agriculture College Council, a member of the Animal Science Club and an Ag Ambassador and is involved with Collegiate 4-H, a service-based organization.
"Most days, I feel like I have more to accomplish than I have time in my day, but I honestly wouldn't have it any other way," Fitzpatrick says. "I really enjoy being involved and feeling as if I am making a difference in our Blue Hen community."
Her classes have been interesting and enriching, she says, but her time with the Marching Band has been especially exciting, highlighted by the chance to perform in the parade at President Obama's inauguration.
"Although it was one of the coldest days of my life, the excitement of being in Washington with millions of other people and the honor of playing for our new president made it one of the most memorable experiences of my life," she says. "As an incoming freshman, I looked forward to what lay ahead of me, but I can honestly say that I never dreamt my experiences would be as fantastic as they have been. Every day, I find myself very proud to be a Blue Hen."
Fitzpatrick, who worked with a vet last summer, is still undecided about the kind of animals with which she wants to work. She says she's grateful that the Alumni Scholars program has given her the opportunity to pursue all of her academic passions.
Article by Stephen Mangat, AS '04