Financial strategy is analyst's stock in trade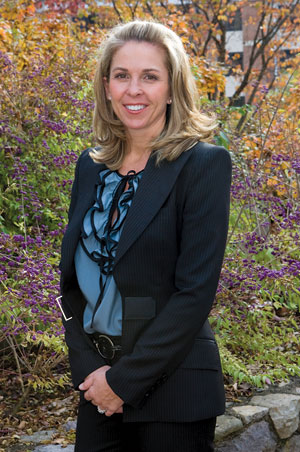 Ambre Alexander
ALUMNI | After graduating in 1986 with a degree in international relations, Liz Ann Sonders expected to continue on at UD and earn a master's degree. But first, she says, she decided to spend the summer in New York City interviewing for various jobs and finding out what kinds of career options were available.
To her surprise, she fell in love—with the stock market.
"Something clicked for me, and I loved it from the get-go," she says. "I was just absolutely intrigued by Wall Street."
Sonders took a job in finance and never looked back, later earning her master's degree in business through evening classes at Fordham University while continuing to work. Today, she's senior vice president and chief investment strategist for Charles Schwab and is universally acknowledged to be one of the best in her field.
In fact, she was recently named "Best Market Strategist" for 2009 by Kiplinger's Personal Finance, which called her "an expert in divining which way the economic winds will blow." The magazine particularly noted her early warning to Schwab clients in 2006 about the dangers on the horizon from the housing-market bubble.
At Schwab, which Sonders joined in 2002, she chairs the Investment Strategy Council, providing guidance and recommendations for the firm's clients, all of whom are individual investors. Responsible for market and economic analysis and investor education, she speaks around the U.S. and abroad at corporate and client events, as well as at outside conferences, and writes regular reports that are published on the firm's Web site.
"Most strategists make short-term predictions about the market, but that's not what we do," she says. "We think investors need to figure out where they are on the risk spectrum, and then we help them customize their allocations from there. We try to foster the notion of long-term discipline, so that our clients aren't constantly changing their investments based on a short-term market prediction."
Sonders, who says she had wonderful experiences as a UD undergraduate and frequently recommends the University to friends whose children are researching colleges, returned to campus last fall as a keynote speaker at a conference on "Creating New Economies for Delaware, the Region and the Nation." She described herself to the audience as "neither a perma-bull nor a perma-bear" but said she saw several reasons at the time for cautious optimism about the economic future.
She reminded those at the conference that the stock market typically begins to improve in a recession before other aspects of the economy—especially job growth—show signs of turning around.
"Some of the biggest bull markets in history have been born during the depths of recession," she said. "The market looks ahead at what the economy is going to do, not back at what it's already done." Investors who have delayed getting back into the market while waiting for employment to pick up will have already missed most of their chance to benefit from rising stock prices, she predicted.
"Historically, unemployment is low when a recession begins and high when it ends," Sonders said, adding that the typical lag time for an improvement in employment is six months, with the previous two U.S. recessions showing a lag of about a year.
Sonders is a regular guest on CNBC, ABC's Good Morning America and CBS's The Early Show, as well as on numerous other TV business shows. She has been named one of the most influential people on Wall Street by SmartMoney and in 2005 was appointed to and served on the President's Advisory Panel on Federal Tax Reform.
Article by Ann Manser, AS '73