1932 alumna turns 100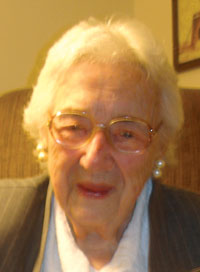 ALUMNI | Elizabeth Caulk Barnard Sinclair, EP '32, of Lansdale, Pa., celebrated her 100th birthday on Dec. 16, 2009. A native of Wyoming, Del., "Lib" majored in elementary education at UD's Women's College. She then taught grades one through six in a one-room schoolhouse before marrying Alonzo Sinclair in 1931.
During World War II, she and her husband volunteered to be spotters of plane traffic in the night skies. Her community spirit continued as she raised three children. She was an active member of her church and of a local community service sorority and a volunteer for the Salvation Army. She was elected to the Norristown (Pa.) School Board, serving as president until she completed her term in 1961.
When she and her husband retired, they spent time in St. Croix, where they worked to restore an old church bell and organized a group to welcome tourists.
When asked recently for advice to young people today, she said, "Make yourself a part of the community. Join with what's going on, and help when and where you can."